Sandy Franks:
AWAI Senior Copy Chief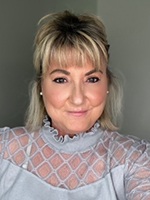 Sandy Franks has more than two decades of publishing, marketing and copywriting experience. She spent many years with Agora Inc., the world's largest privately own newsletter publishing company where she climbed the ranks, starting as a marketing assistant and taking over the highly coveted publisher position of the Taipan Publishing Group. She retired from the company in 2015.
Sandy has hired and worked with a countless number of copywriters including the best of the best: Mike Palmer, Chip Biggs, Arthur Johnson, Paul Hollingshead, Bryan Bottarelli, and rising stars Blair Morse and Ted Leinbach to name a few. She's also overseen numerous multi-million dollar campaigns and successfully launched a wide variety of products that are still in existence today.
In addition, she's worked along side well-known authors such as Dr. Atkins, Matthew Lesko, Larry Crane, Pamela Yellen, Addison Wiggins, and Bill Bonner. She co-authored two books published by John Wiley & Sons: Barbarians of Wealth and Barbarians of Oil.
Sandy now serves as Senior Copy Chief for AWAI.
She is also the founder of the Women's Financial Alliance, a small publishing company she started with her husband and daughter. Several of her articles have been featured in USA Today, The Huffington Post, IndyStar, and StreetAuthority.
Sandy Franks Articles
More Articles By Sandy Franks …
AWAI Programs with Sandy Franks
For Aspiring Copywriters: A Resource So Potent It Turns Average Copywriters Into Great Ones and Great Ones Into Legends …
Copywriting Genius: The Master Collection uncovers the secrets behind the strongest direct-response promotions in the mail, in space advertising, and on the Internet today.
Each and every month you'll get:
A copy of a blockbuster letter … one that blew the doors off the existing control. A letter that's bringing in hundreds of thousands – even millions – of dollars mailing after mailing. They're what are known in the industry as "grand-slam homeruns."
A thorough analysis of precisely what it is that made the letter great. The Copywriting Genius team will break down the featured promotion section by section for you. You'll get their critique of the format, headlines, subheads, product positioning, bullets, offer, false close, actual close, order device … every element that goes into a winning package.
An in-depth and revealing interview with the writer of the letter. You'll get inside the heads of the greatest copywriters of our day and hear firsthand the deep, powerful, and useful insights from the copywriter himself.
A new " $20K Secret" Report … a monthly report which talks not only about the "subtle technique" the writer used, but shows you precisely how to use it in your next letter to increase your earnings by at least $20K!
You'll also have unlimited access to all the letters, analyses, and interviews previously featured in past months. It's like having your own private library of the world's most successful promotions – along with all the secrets that make them work so well!
The secrets of how master copywriters conjure up promotions to bring in millions of dollars could hold critical answers for you in your own career.
Don't miss a single issue.
Copywriting Genius: The Master Collection
For More Information, click here …