How to Be the "Secret Weapon" Behind Successful Copy and Content
You can't overestimate how valuable a great copywriter is to businesses' success.
But there's a critically important person who works behind the scenes to transform "good" copy into GREAT copy…
To make sure every piece of copy is clear… consistent… easy to read… well organized… and error-free…
And to push that copy the last 5% over the finish line.
That person is the copy editor.
A skilled copy editor is a "security blanket" for the copy and marketing team.
He or she gives the team peace of mind, letting them have confidence that every piece of copy is ready to be published and have its best chance of success.
Good copyediting leads to more engagement, leads, and sales…
And with digital marketing exploding, and the demand for copy skyrocketing…
More copy editors are needed than ever before to review all that copy being created.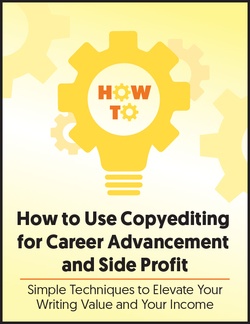 That's why now is the perfect time to dive into this home-study resource, How to Use Copyediting for Career Advancement and Side Profit!
You'll learn the skills needed to make a VERY GOOD living as a copy editor — or to add copyediting to your list of services.
The program will give you a 360-degree view of copyediting, including the different types of editing you'll be able to offer with confidence.
You'll learn core copyediting principles that will help you understand who the intended audience is (and why it's just as important for you to keep in mind as it is for the copywriter)…
Amplify the writer's voice rather than overpowering it with your edits…
And determine when you should "fix" grammatically incorrect copy and when you should leave it alone.
And of course, you'll also learn how to actually make copy edits… a six-step process you can use on every piece of copy you review… common "red flags" and mix-ups to be aware of… both the surface-level and big-picture edits you'll look for… and so much more!
Plus, the program includes a quiz at the end of every section to ensure you're mastering the copyediting skills you're learning…
And you'll get exercises to practice your copyediting — including one you can submit to our team for professional feedback. Just polish it up afterward and you'll have your first portfolio sample to show potential clients!
And speaking of clients, the program contains a whole section on getting clients, so you can start making money quickly — and potentially even land retainer contracts that pay you predictable monthly income.
Copyediting is an outstanding opportunity if you want to get paid well, be in demand, and be valued as a critical part of any copy team you work with.
How to Use Copyediting for Career Advancement and Side Profit: $497.00
For More Information, click here…