Meet AWAI-Trained Writer: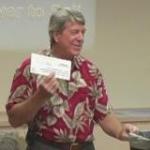 George Austin
| | |
| --- | --- |
| Location: | Cocoa, FL |
| Professions: | Copywriter, Social Media Expert, SEO Expert |
| Specialties: | Christian, Financial, Web/Internet |
| Website: | www.MagneticWebsiteSecrets.com |
Professional Background:
Why choose me?
Because I'm not just a copywriter, I'm a salesman in print.
When I work for you, you get a copywriter with skills forged in the fires of 20 years as a securities broker and financial planner.
That means I designed and wrote marketing materials to fit insurance and securities products because I needed to make things happen in order to survive.
So, my writing stems from real-world experience of how to generate your reader's interest and desire to take action. For me, that often required transforming complex and boring subjects into clear and compelling offers both verbally and on paper.
Not only that, but through American Writers and Artists (AWAI) I've mastered the insider secrets from the top 1.0% of all direct response copywriters in the entire world.
When you have a story to tell, a product to sell, or a phenomenal cure that can heal millions, but you aren't getting the results you desire, then consider this as my offer to help you succeed.