Meet AWAI-Trained Writer: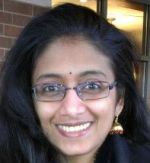 Krithika Rangarajan
| | |
| --- | --- |
| Location: | Schaumburg, IL |
| Professions: | Copywriter, Researcher |
| Specialties: | B-to-B, Health, Self-Help, Web/Internet |
Professional Background:
At the not-so-ripe age of 32, I uttered four words for the first time in my life: "I am a writer".
By owning a lifelong dream, I embarked on an unpredictable, uncertain, UNIQUE journey - one that has seen more troughs than crests in the last three years, but has nonetheless been immensely EXCITING.
I have worked as a Freelance Writer for the last year - a career I find fascinating because it keeps me on my toes.
In my past life (the twenties seem so far!), I attained a BS in Engineering and a Masters in Telecommunication, following which I worked as a Telecom Consultant in Virginia for three years.
After vacillating for three years, I decided to purchase AWAI's package. Why did I wait three years?! Because I was too proud to admit I needed help to establish myself as a reputable and resourceful copywriter.
SO here I am, ready to create a life that is enjoyable, empowering, and - best of all - rewarding.