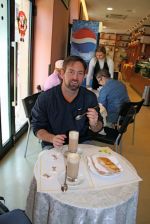 Kyle Davidson

Colorado Springs, CO
Copywriter, Researcher, SEO Expert, Travel Writer
B-to-B, Christian, Fundraising, Self-Help, Web/Internet
I've been writing in different forms and fashion since I was 19.
I started as a journalist in the Marine Corps, transitioned into script writing for corporate video production after college, writing for the web early in my career, then sports writing ... But I feel I've finally found my calling in copywriting ...
You see, underlying everything I've ever done has been a desire to be my own boss -- run my own business.
In fact, for three-and-a-half years, I actually DID own my own brick-and-mortar pet supply and services store that I grew from concept to a sellable asset. In many ways, I miss it. I miss the feeling of knowing I'm providing great value; I miss answering my customers' questions; I miss the the the satisfaction of knowing I was making it on my own -- I don't miss the 14-hour days, seven days per week.
So how can I continue to help people solve problems that matter to them but work when it's convenient for me? Yep. Copywriting.