Meet AWAI-Trained Writer: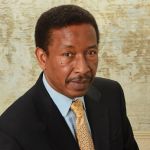 Professional Background:
I am a former diplomat from the Islamic Republic of Mauritania, North Africa. I Majored in International Relations and Public relations, with a Master's degree level.
As part of my former job, I have visited many parts of the world, including Europe and the Middle East. Such interactions with different cultures have given me a broader view of the miracle of the
human experiment.
As an expert on security matters, I can help Western governments, Western organizations, firms, and individuals debunk and defeat the Jihad through the concepts of life, light, and love.
At the same time, I have an in-depth knowledge of the present dangerous situation related to terrorism, which could destroy all the elements of Western civilization.
Prior to my diplomatic activities, I served as a former Deputy Governor for economic and administrative affairs. In these capacities, I have discovered the ability to help businesses, develop them, and expand them beyond their traditional parameters.