Meet AWAI-Trained Writer: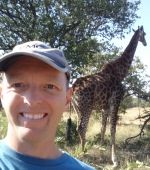 Francois Du Toit
| | |
| --- | --- |
| Location: | Pretoria, South Africa |
| Professions: | Copywriter, Travel Writer |
| Specialties: | Christian, Health, Web/Internet |
| Website: | www.thetourismcopywriter.com |
Professional Background:
Your Love For Nature,
written by my pen.
Lets team up – Your eco tourism business and my eco tourism writing skill.
In your business, there is the fun side. And then, there is the business side. The fun is out there, in nature, the business side jails you into a cage-like office.
As a nature-loving copywriter, I'll take care of writing your marketing material. You'll spend less time in the cage, more time sharing your passion for God's creation with your clients.
Growing up in a farming community in South Africa, I always enjoyed the outdoors – horseback riding, swimming the Vaal river, hiking a local hill, discovering the nearby little forest...
Then as an adult, I spend my time to become a master of friendly, persuasive writing.
My vacations? I'm still out in nature, hiking the Drakensberg, kayaking Durban's waves...
I speak your language AND I know what your clients want.
Visit my website to find out how my pen can enhance the marketing of your eco tourism business.