Inside AWAI Webinar and Q&A:
Make A Great Living as a Lead-Gen Copywriter
Lead-generation is arguably the most important part of the entire sales process for any company … because without potential buyers (i.e. leads), they can't make any sales. Ouch!
As a Lead-Gen Copywriter, you are the RAINMAKER … the hero who brings a steady stream of leads, month after month, for any client lucky enough to hire you.
During this Inside AWAI session, AWAI Learning Chief Pam Foster talks with Rachael Kraft, Direct Response Lead-Gen Consultant, to take you inside this incredibly hot opportunity for writers.
You'll discover:
What lead-gen copywriting is
Why it's a critical service for clients
How it all works in the marketing cycle
The types of writing projects that support lead generation
What can you earn as a Lead-Gen Copywriter
How to find clients and become their "rainmaker"
Even how to use lead-gen copywriting for your own business!
As always, they opened up the conversation for a Q&A at the end.
Webinar Materials
Become a Lead-Gen Specialist: Earn Top Fees Writing B2B Emails, Landing Pages, and Ads That Sell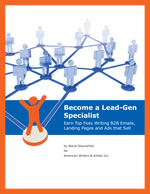 Lead-Gen Specialists help B2B firms attract new prospective customers and names for their marketing list. Tied directly to bottom-line growth, lead-gen copy commands top fees and is always in demand. » Learn More
Access the Inside AWAI archives here.