Catherine Cairns-OKeefe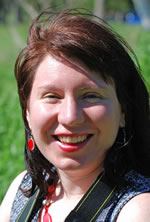 AWAI Member Since: 1999
What's your current occupation?
Online publisher and photographer.
What's your former occupation?
Housekeeper
What was the first project you landed?
Revising the glossary for AWAI's copywriting program.
What are your current projects?
I'm in transition from copywriting to full-time photography and publishing my blog, SprinkleGoodness.com. Publishing my own information was something I wanted to do when I first got started in copywriting. Now I'm doing it thanks to all I learned from copywriting projects! For example, I was hired to write a promotion about a blogging program. And, through that assignment, I got inspired and realized, "It's time. I can do this!"
What has been your proudest copywriting moment?
Getting my first project with Nightingale-Conant in April 2002.
What's your favorite niche to write for?
Self-help (and even my blog promotes "goodness in our world").
What's your writing routine?
When I get started earlier in the day, that always feels best. And, when I work in 33-minute blocks of time that keeps me focused and productive. I learned this strategy from reading about the legendary Gene Schwartz. He used a timer to work in 33.33 minute blocks of time. It's amazing how much you can accomplish when you do this.
Please give us an example of how your life has changed since becoming a copywriter.
It has given me the freedom to be me, 100%. No uniforms! I can dress in my own style, which I love. I also love how copywriting has opened up new opportunities for me. For example, I've always enjoyed taking pictures since I was a kid. Well, through copywriting, I got paid to write a promotion and other material about how to take pictures that sell... and through all I learned, I started getting paid for taking pictures. And, through another copywriting project, I was able to introduce my husband Matt to an online marketplace – where he is now getting paid to do comic book art and other things.
What success tip would you like to share with your fellow writers?
Always continue learning. Always strive to be better. I'm always looking at my work wondering, "How can I improve that word... this sentence... this headline?"
When did you realize you were living the copywriter's life?
When I got work from Nightingale-Conant and continued getting work from them. I realized I didn't need to go back to a "job," which for me, was such great freedom. Even now, as I transition into full-time online publishing and photography, I am incredibly grateful for the freedom I have to do what I love.