Christina Gillick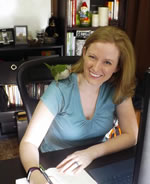 AWAI Member Since: 2009
What's your current occupation?
Freelance Direct-Response Copywriter and Marketing Expert
What's your former occupation?
Chief Web Officer and Marketing Director
What was the first project you landed?
My first project was a product announcement email for my full time
employer at the time – an online training company.
I had writing experience, but I had never heard of direct-response
copywriting. I modeled their other emails, bought AWAI's Accelerated
Program for Six-Figure Copywriting and learned all I could while
getting paid to do it!
Within a few months I advanced from 'Online Chat Filterer' to Head
Copywriter.
What are your current projects?
I'm dividing my time between my own projects and client work. For clients I'm writing autoresponders, sales letters, landing pages and other web copy. I'm also doing marketing consulting and website management. The rest of my time goes to my personal projects: First, the website, web copy and marketing for a product I invented called ComfyEarrings.com. Second, a complete website solution for freelance copywriters called HubHero.com.
What has been your proudest copywriting moment?
There are two moments I'm having a hard time choosing between . One was winning the 2011 Build Your Very Own Freelance Website Competition. The AWAI members made this moment special for me because many of them stepped up and congratulated me. It's wonderful to be a part of such a strong and supportive group! The other moment was when Michael Masterson congratulated me on one of my emails and called it powerful. It sounds simple, but it gave me a huge boost of confidence.
What's your favorite niche to write for?
Personal Development, Self-Help and Information Marketing
What's your writing routine?
I don't really have a routine, which is one of the things I love about the writer's life.
On weekdays, I try to start by 8 a.m. and write for 2-3 hours. Then, depending on how my schedule looks, I might spend the afternoon researching, reading, marketing my business, consulting with clients, working on my money-making website or on my own personal development.
Sometimes I'll work a little in the evenings or late at night, if I can't sleep. But, I always take Friday evenings off. I also try to use Sundays for motivation, relaxation and recharging.
Please give us an example of how your life has changed since becoming a copywriter.
It's amazing! I see my husband more because he also started his own business. His home office is just a hallway away from mine. Work is more enjoyable because my office is set up exactly as I like it and I can work outside when the weather is nice. I can wear anything I want and go barefoot. I only wear shoes when I go out. I worry less because my career is in my own hands. I'm more relaxed, have more free time, eat healthier and workout more. I don't have to deal with traffic because I drive maybe one day a week and I can choose to drive when everyone else is working. My pets have better lives, too, because I don't have to leave them alone all day. And, knowing I have the tools to increase my income at any time means we can have or do almost anything we want.
What success tip would you like to share with your fellow writers?
Choose a niche right away and just get started. I wasted a lot of time trying to figure out the perfect niche only to wind up choosing one of the first things I considered: Personal Development. I've learned your niche doesn't have to be perfect and you can change your mind at any time. Don't get so bogged down choosing a niche that you never move your business forward. Just pick something, get your name out there and start making money.
When did you realize you were living the copywriter's life?
It's hard to state a specific moment, but probably when my husband was laid off and, because we didn't miss the income, he was able to follow his dreams and start his own business.
I also realize I'm living the copywriter's life when I get paid to do fun projects, can take a day off without asking and don't have to worry about punching the clock.