Kammy Thurman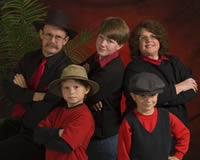 AWAI Member Since: 2002
What's your current occupation?
SEO Copywriter/Content Marketing Consultant for the travel and outdoor sporting industries
What's your former occupation?
Travel Agent
What was the first project you landed?
Copywriting/graphic design for a financial planner.
What are your current projects?
Monthly digital marketing campaigns for B&B inns, photo studios, international hunting & fishing outfitters & a hunting-related auction site. Campaigns include various combinations of website SEO, and content marketing through online video, social media, articles, blogs, podcasts, mobile marketing, and publicity. These may also be tied to Pay-Per-Click advertising when appropriate.
What has been your proudest copywriting moment?
Expanding my copywriting business into a content marketing agency.
What's your favorite niche to write for?
Travel, photography and the outdoor sporting industries. I'm a former travel agent and have been into hunting, fishing, camping and horses for decades. My family is also fond of these activities and my husband is a professional photographer so these niches are a great fit for us.
What's your writing routine?
I start at 5 a.m., warm up by checking social messaging, etc. for client campaigns, and work on any copy I'm handling myself. Later in the morning I check on projects I've outsourced to subcontractors. In the afternoon, I work on consulting appointments, client calls and marketing for the agency.
Please give us an example of how your life has changed since becoming a copywriter.
HUGELY! I never imagined myself the CEO of an agency with people working for me.
What success tip would you like to share with your fellow writers?
Put yourself out there. Go to seminars, and not just copywriting seminars. Go to seminars in the industries you want to work, so you can start building a reputation and meeting potential clients.
When did you realize you were living the copywriter's life?
When I cashed my first check for $2,000, shortly after I joined AWAI. I knew then that I was a real professional.