How to Raise Your Setpoint to Increase Your Income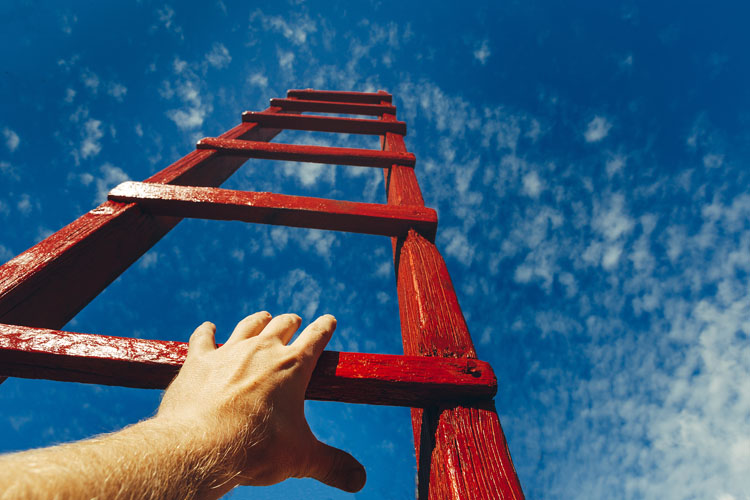 In the past, I struggled with knowing the right approach for setting goals.
My question was always whether I should set ambitious goals, hoping to achieve lots of great things … or, if I should aim lower, making consistent progress through "tiny" goals.
Taking Wealthy Web Writer's End-of-the-Year Challenge and studying different goal-setting strategies was a huge help.
While doing this research, I came across one strategy that seemed to be the perfect solution for my dilemma — the setpoint strategy.
Here's how I used this strategy to set my 2019 business goals, and how you can use it to increase your own income this year.
The Setpoint Strategy: Changing Your Mindset to Get the Biggest Results
As Heather explained in December's monthly member update, setpoints exist throughout nature. A setpoint is the value a system has determined is ideal for operating as efficiently as possible in its environment.
Your body, for example, has a certain internal temperature and weight that it's comfortable with — and this won't change unless forced.
In the same way, we have our own metaphorical setpoints for external factors in our lives. For instance, income. We feel comfortable and safe making so much income a month.
The setpoint strategy is all about recognizing what we're currently comfortable with, and working to change this value. The idea is that just by changing your mentality, it's much easier to make progress toward your goals.
Here are the steps I used to put this strategy to work in my own life, and that you can follow to reach bigger results this year.
Step 1: Determine Your Current Setpoint
The first part of this strategy is determining what your setpoint is right now. To make it easier, take a numerical value — your monthly income.
Start with your freelance business's current monthly income. (You can approximate.) Think about it for a moment, and see what your gut reaction is to that number. How does it feel? Is it uncomfortably low? Or, does it feel pretty good?
Even if it feels about right, there's probably a part of you that would like to earn more.
Start to think about earning a higher monthly income. Pay attention to where the number starts to get uncomfortable. As this happens, you can identify your current income comfort zone — that's your setpoint. Any number significantly above that will be beyond it … and it's unlikely you'll exceed your setpoint. You'll find reasons not to, even if you don't realize you're sabotaging yourself.
In 2018 I didn't make any freelance income, so I started small when doing this exercise. Earning $1,000 a month with my freelance business felt too low. When I moved up to $3,000 and $5,000 a month, it felt like a lot of money from a side business … but doable.
It was only when I got to $7,000 a month that I thought … "Whoa! That is more money than I am comfortable making."
Ding! I found it — the monthly income that was beyond my setpoint.
I determined my own setpoint is currently about $5,000 a month. And, based on my reaction to $7,000, I decided my number one goal for the year is to increase my setpoint to $7,000 a month.
Step 2: Identify What It Takes to Reach Your New Setpoint
The next step is to do the work of actually increasing your setpoint. To do this, I started out by saying to myself every now and then, "I'm comfortable making $7,000 a month."
I noticed it didn't take too long before that number sounded like no big deal in my head.
But rather than stopping there, I decided to brainstorm what it would take to actually make this much money.
Here are the three main activities I determined I'll need to do in 2019 to allow me to grow toward my goal income:
Consistent and strategic prospect outreach: This is the biggest and most important thing I decided to do to get initial projects and keep a steady stream of client work.
Taking on more ambitious projects: Rather than just sticking with blogs and emails, I decided it will be more efficient to take on "scarier" (and better-paying) projects.
Diversifying my freelance income: To have consistent income coming in, I decided to launch another income stream and start a Money-Making Website related to my freelance niche.
Doing this step was extremely beneficial. It turned out my current weekly and monthly activities looked nothing like what a $7,000-a-month freelancer probably does on a regular basis. (Go figure!)
Once you determine the main activities you want to do to support your goal, the next step is to make a plan.
Step 3: Put Your Action Plan Together, Month-by-Month
Here's where you can start breaking down your activities into more specific tasks.
When I did this exercise, my tendency to over-plan resurfaced. But my categories from the previous step helped me stay focused. I could more clearly see, for example, that taking additional courses wouldn't help me reach my goals at this point, since I need to put the skills I already have into practice.
To keep my big picture clear, I also made a different theme for each quarter to help me envision how I'd get from where I am now to eventually earning $7,000 a month.
Here's an overview of my own action plan for the year, with the themes and a few of the goals.
1st Quarter: Reach Out
The main theme for this quarter is to get comfortable presenting myself to clients. For each month, I set a few specific goals within my control — such as spending three hours a week writing blogs for my freelance website and reaching out to 21 prospects per month.
2nd Quarter: Add Services
With some initial projects under my belt, in the next phase I'll focus on going after projects that use higher-level skills, such as sales letters and website work.
In addition to maintaining my goals from the first quarter, I'll add a couple goals like submitting one Spec Challenge a month to start getting comfortable pitching my sales copy services.
3rd Quarter: Diversify Income
By quarter three I should have some solid client work on the calendar. But I'll also begin diversifying my income through a Money-Making Website related to my niche. I'll keep going with my previous goals, but add launching and expanding the website to my list.
4th Quarter: Level Up
The final quarter is about learning from my first year as a freelancer and leveling up my business. It's hard to know exactly what things will look like at this point. But whatever happens, I'll make sure to revisit my services, personal marketing strategies, and fees, and see what I need to rethink.
When making your own action plan, it's important to try to anticipate any vacations, disruptive life events, or other things that might come up throughout the year. Keeping this in mind helped me recognize that July was probably going to be less productive than other months. Knowing this in advance makes it easier to deal with when it actually happens.
Step 4: Follow Through and Determine Success
With any goal-setting strategy, it's important to ask yourself, "How will I know if I achieve my goal?"
Since I'm starting with virtually zero freelance-writing income, I have it a bit easy with my goal of increasing my income. Basically, any consistent monthly freelance income — $5,000, $3,000, even $1,000 a month — will be a success. And, since I'm confident I can make some writing income this year, taking consistent action is the real measure I'll use to determine whether I reached my goal or not.
By taking these steps to increase your own setpoint for your monthly income, and following up with consistent action, I'm confident you'll see your income grow much faster than you thought possible.
Now I'd love to hear about your goals for 2019. How did you decide what to focus on? And what do you plan to do to get there?
Bio: Rebekah Mays is a web writer for the running industry, helping companies equip their customers to lead healthy, meaningful lives. She runs the occasional marathon and lives in the Netherlands with her husband.
This article, How to Raise Your Setpoint to Increase Your Income, was originally published by Wealthy Web Writer.

The AWAI Method™ for Becoming a Skilled, In-Demand Copywriter
The AWAI Method™ combines the most up-to-date strategies, insights, and teaching methods with the tried-and-true copywriting fundamentals so you can take on ANY project — not just sales letters. Learn More »

Published: February 20, 2019