5 Ways to Make Money
Writing Short Emails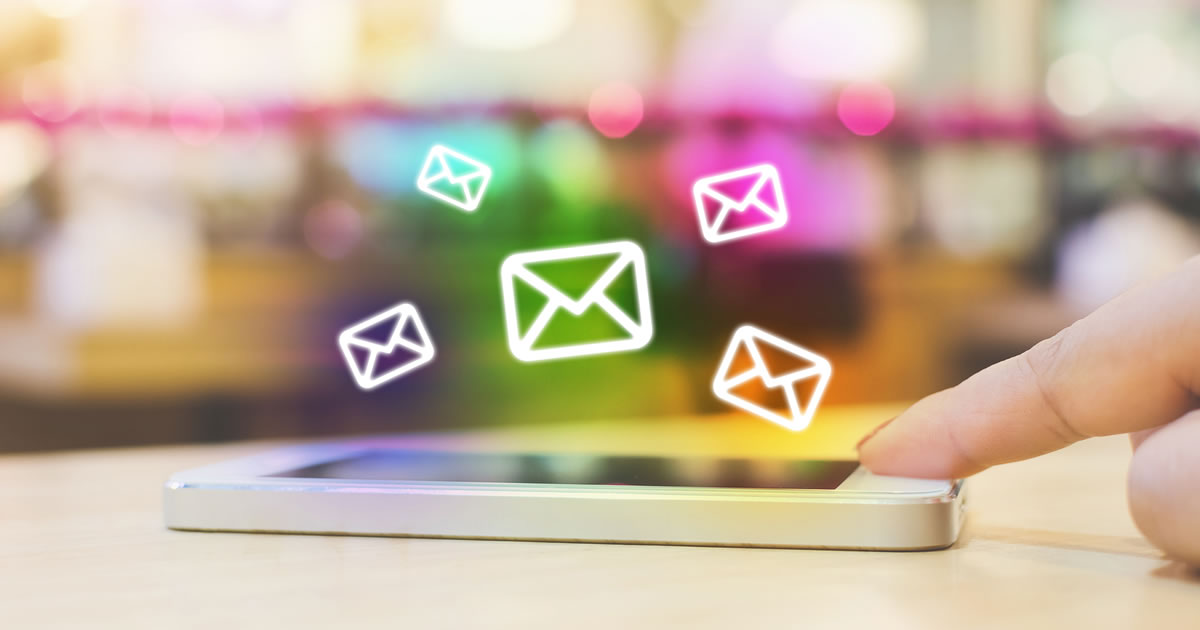 Today, just about every person on the planet gets emails — LOTS of emails.
According to an Email Statistics Report by The Radicati Group, more than 246 billion emails will be sent every day this year.
That works out to over 10 billion emails an hour.
That's a lot of crowded inboxes!
Yet, five things are happening:
That number keeps growing, despite the additional communication channels like text, social media, video chatting, instant messaging, and more.
Studies show the average person checks email 77 times a day, which isn't surprising since almost everyone carries a smartphone with them.
86% of professionals name email as their favorite mode of communication.
An email account is often required to sign up for anything online from registering to participate in a social networking site to making a purchase online.
The Return on Investment for every dollar spent is four times greater than social media, direct mail, and paid search.
So, it's no surprise year after year that email is named the #1 marketing channel by business owners and marketers.
In fact, 81% of U.S. companies believe email marketing drives customer acquisition and 80% believe it drives customer retention.
In plain speak, that means companies are using email to GET customers and to KEEP them. Both critical tasks for a company's bottom line.
Obviously, all this email communication has created a huge ongoing demand for email writers.
Why Write Emails?
When it comes to launching your freelance writing career and getting paid to write in the shortest time possible, writing email copy gives you every possible advantage:
Easy to learn. You could realistically learn how to write email copy in one week. In fact, I have personally seen some folks become competent at it in less than a week.
You can write them fast. Typically, writing a single email may take an hour or two. The more of them you write, the quicker you'll get. Obviously, I've been doing this for a while, but I can write a single email in as little as 30 minutes.
Plenty of work. Emails are the cheapest and most effective way to stay in touch with past, present, and future customers. Any business that is serious about making more money will email their customers on a regular basis — usually daily.
Short writing projects. Most emails are only 300-800 words, making them quick projects to start and finish!
Better-than-average pay. Even if you are new to writing email copy, you could realistically charge $100, $300, $750, even $1,250 or more per email you write, depending on its intention. The closer you are to the sale, the more money you'll typically charge.
Fees add up quickly. Most potential clients will need anywhere from 3-10 emails at a time. Depending on how much you're charging, those fees can really add up!
Every industry needs them. No matter what your interest or experience, you can find a company that needs emails written. You can write about what you want!
And here's something else you may not realize about the email writing opportunity …
There is a ton of variety! Enough for you to pick and choose the types of email copy you want to write.
Plus, most companies use more than one type … so you can be booked solid with just a few clients.
Let's look at five of the most in-demand email types …
In-Demand Type #1: Content Emails/Advertorials
Content writing is one of the most misunderstood opportunities in the writing industry …
I've heard some writers say they're not a "sales writer." They write content. Yet the purpose of good content — the kind clients pay writers $300 to $500 to write, is to prepare the reader for the sale.
Ultimately, every business is selling something. That's why they're in business. And if you as a content writer can help those sales happen, you'll make good money and be in high demand.
Content emails — also known as advertorials — are similar to articles and blog posts you see on a website. The only difference is they have a sales intention … In the end, you want to get the click.
Now, these emails may never even mention a product or service. But the entire piece of content is preparing the reader for the solution the product provides. And at the end, there will be a clear call-to-action to learn more by visiting a sales promo or other type of sales copy.
This is a great opportunity for writers who "get" content …
Along with great fees, this one can be set up on retainer — where you agree to write a set number of pieces each month, and your clients in return pay you the same amount month after month.
In-Demand Type #2: Direct Sales Emails
This is where my direct-response copywriter friends will want to live … mainly because it's where you can expect the highest pay ($750 to $1,250). With this type of email, you ARE going to ask the reader for the sale. And the closer you are to the sale, the more money you can expect to make.
If you've taken the time to learn about direct-response copywriting, and want to put those superpowers to use — but don't have the interest, focus, time, or attention span to write a 20-page sales letter — this opportunity is for you!
Sales emails will follow the exact same principles of a good persuasive sales letter … you'll need to hook your prospect, make them a promise so they keep reading, paint a picture, provide proof, and get them to take an action.
The only difference will be the amount of words you write … So, make every one count!
In-Demand Type #3: Lead Generation Follow-Up
Many companies — especially in the Business-to-Business (B2B) industry where companies are selling to other businesses instead of consumers like you and me — have a long sales cycle that starts with generating leads.
A lead is a potential buyer who raised their hand to say "I'm interested" by filling out a form, downloading a white paper, signing up for a free trial or sales demonstration, etc.
The "lead" knows the product exists, and is already considering making a purchase. So the intention of these emails is to move the person forward with their buying decision, either by answering questions or encouraging them to talk to a sales rep who can close the deal.
In-Demand Type #4: Email Funnels
Email funnels are similar to lead generation follow-up in that they are sent to someone who is a potential buyer …
But they're usually a bit less aware of the product. With email funnels, someone signs up for a webinar, free report, or free training on a topic related to the product your client is selling.
And because the person is interested in a particular topic, the company then tries to sell a product or service they feel is of interest.
For example, maybe your client is selling a supplement to reduce inflammation. They may offer a free report on the 10 risks you face if you have too much inflammation in your body.
The person who downloads the report isn't necessarily looking for a supplement at the time. But they are interested in the risks inflammation poses for them, and are therefore a good potential buyer.
Funnels usually have 5-7 emails in the sequence, but can go much higher. You can get paid just to write the emails. Or, you can get paid $1,500-$2,000 to develop the email strategy, and then get paid again to write the emails.
These emails are often automated — which means they run on their own. And once someone turns into a buyer thanks to your emails, they move on to the email list for our next set of in-demand emails …
In-Demand Type #5: Post-Purchase Onboarding Sequences
These emails are all about customer experience. Someone has purchased a product, and now you want to help that person receive the benefits from consuming it.
Whether it's a workout program, a financial newsletter, training, or anything in between, you know the buyer won't benefit until they use it. So your job here is to keep them engaged and get them using the product …
You might show them how to get started, point out exciting features, see what questions they have … anything that helps them move forward towards the solution they were looking for when they first made the purchase.
So, you can see, there are loads of ways to make money writing emails …
How to Choose Your Email Writing Path
Now that you've got an idea of some of the in-demand email projects you can write, it's really a matter of deciding whom you want to write for …
Do you want to write emails to consumers like yourself or for prospects for businesses?
There is no wrong answer here. Emails are great copy projects for every skill level from up-and-coming to advanced.
At AWAI, we've been teaching aspiring writers how to craft emails for years.
Plus, as email marketing has grown in demand, we've expanded the online learning programs we offer, so you can keep your skills focused and up-to-date with your target market.
Which one is right for you?
Here's a quick breakdown so you ensure you get the right training you need to make a living writing these short projects …
1. If you'd like to write to consumers, check out our Email Copy Made Easy program by Jay White. Jay has been focused on writing emails for over 12 years and is one of the most in-demand specialty copywriters and coaches in this business.
His program teaches email copy basics, including how to apply them to sales funnel emails (often called autoresponders), how to drive people to take action, and how to write to prospects vs. buyers. With this one program, you'll be able to take on many of the emails I covered above.
2. If you'd like to specialize in the B2B market, look at Writing Email Copy for B2B Companies by Steve Slaunwhite. Steve's a B2B expert with over 18 years of experience writing B2B emails. He'll teach you the five in-demand email types for B2B and how to write each one, how to grab the B2B reader's attention and make sure your emails get opened, and much more.
Both programs show you how to find clients that need your services.
And just remember, no matter which path you choose …
With over 246 billion emails being sent a day, you can make a good living by specializing as an email writer. Or you can expand your writing business by offering emails as one of your copywriting services.
Either way, I encourage you to give emails a shot. It's a solid channel that has had continuous growth, increased ROI for companies, and shows no end in sight.
Which email market would you like to write for? Please share in the comments below.

The AWAI Method™ for Becoming a Skilled, In-Demand Copywriter
The AWAI Method™ combines the most up-to-date strategies, insights, and teaching methods with the tried-and-true copywriting fundamentals so you can take on ANY project — not just sales letters. Learn More »

Published: April 11, 2019