Discover this opportunity from a B2B email marketing expert:


This Simple B2B Writing Project Pays $800-$1,200 Per Day … Even If You're Just Starting Out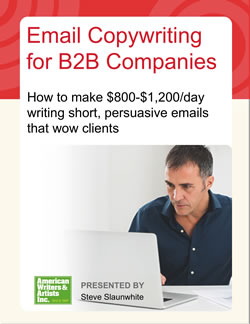 In the world of B2B (Business-to-Business), there's an often-overlooked writing specialty with massive demand for short projects that are easy to learn and fun to write …
Writing email copy!
And everything you need to know to start making $800-$1,200 per day with this specialty is covered in Writing Email Copy for B2B Companies by Steve Slaunwhite.
Steve is a Master B2B Copywriter who has worked with B2B businesses for more than 22 years … and he's been writing B2B email marketing campaigns for over 16 years.
In this all-inclusive course, he will take you inside his own perfected business model. You'll learn exactly how to write B2B emails, plan complete email campaigns for your clients, and get as many of these projects as you need …
"For those of us working in the B2B niche, Steve Slaunwhite's instructional resources are the best ones I've ever seen. Using what I learned, I picked up another big client within two weeks! Thanks, Steve, for all you do for business writers."

— Paul Black

"Steve knows his stuff like no one else. He consistently offers sound, practical, real-world advice based on his many years of experience. Without fail, Steve always provides outstanding value in all of his programs and courses. I hold Steve in the highest regard and recommend his programs and services without reservation."

— Ann Hasselquist
With Steve as your personal guide, you'll discover:
5 in-demand B2B email types and how to write each one … including Steve's personal decision-making process for which emails to use to meet your client's goals.
How to grab the reader's attention and make sure your emails get opened. (You'll even get Steve's step-by-step formulas — the techniques he personally uses — for writing effective subject lines.)
The simplest way to recognize companies who need email writers. Plus, whom to approach within the company and why they'd happily hire you even if they have other writers on staff.
Proven methods for promoting your new B2B email copywriting service. And, what to say to convince a new client to hire you (even if you've never been paid to write a B2B email before).
How to develop your practice B2B emails into strong portfolio pieces and use these to pick up paying clients right away.
And a whole lot more!
This short list is only a sample of what you'll learn about B2B email marketing from Steve. By the time you finish absorbing his 16+ years of email writing experience, you'll have confidence you can do the job well, thanks to being trained by the best.
You'll also know how to sell this service to eager clients and start earning as much as $800-$1,200 per day with email.
Writing Email Copy for B2B Companies is all you need. As soon as you complete this program, you'll be ready to go. And, you'll know exactly what to do.
Writing Email Copy for B2B Companies — Your Complete Guide to Writing and Winning These Profitable Projects: $497.00
For More Information, click here …