Lisa Christoffel is the New Managing Editor of B2BWritingSuccess.com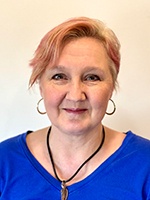 Please join me in congratulating Lisa Christoffel for being named Managing Editor of B2BWritingSuccess.com, AWAI's membership site aimed at helping B2B copywriters start and grow successful businesses.
With over 25 years' experience as a Global Service Business Manager and then a Global IT Implementation Manager, Lisa began her copywriting career writing for SaaS and Services companies. But her passion, where she spent her free time, was in her children's schools and volunteering for PTA. Wanting to re-focus on education, Lisa settled into her Training and Education niche in 2017.
Lisa is an AWAI Circle of Success (COS) member, copy reviewer, COS mentor, and contributor to both B2BWritingSuccess.com, as well as its sister site, WealthyWebWriter.com. And, she's excited to help B2B Writing Success members grow their businesses, find great clients, and achieve their income goals.
Lisa said, "I've been providing AWAI members with copy reviews and mentoring over the last 18 months. I've so enjoyed getting to know new and experienced copywriters, hear where they've come from, and more importantly, where they want to go. I see the Managing Editor position as another way to continue helping new writers build their skills and businesses. I'm excited to continue the work Charlotte has done over the last several years and to work with the membership on any additional services we can introduce to improve their chances of success."
Congratulations Lisa!
And … a special heartfelt thank you to long-time Managing Editor Charlotte Hicks. Charlotte noted, "It's been incredibly rewarding to be a part of B2B Writing Success since its inception. Over the last six years, the site has gone from a vision Rebecca Matter had to serve B2B copywriters, to a valued resource used by thousands of members.
It's also been a true pleasure to work with our B2B experts and all of the contributors to the site. What I've loved the most, however, is seeing so many B2B copywriters launch their freelance businesses and achieve their goals. And now that I've passed the helm to Lisa Christoffel, I'll be in the cheering section, ready to celebrate the successes to come."
Charlotte has helped so many writers while overseeing the site. Her care, expertise, and commitment to the members was unsurpassed. We're excited about her next chapter, and we look forward to celebrating her victories as she builds her own business, just as she has for our members.
Thank you, Charlotte!
Not a member of B2BWritingSuccess.com? Click here to learn more …