June Issue: The Just-Add-Salt Money Boom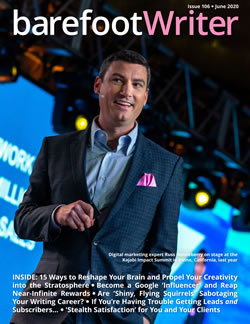 Fleur de sel … flaked … smoked … Himalayan …
These are all types of salt, and there's a clever little writer's secret tucked into those sparkly sodium ions.
Which, by the way, are more magic than you'd think …
Click here now to read your June issue of Barefoot Writer.
Because for something so tiny and generally plentiful, salt packs a heck of a punch. It enhances sweetness and blocks bitterness. It improves the flavor of wine and makes meat juicier. It can build in deep, subtle seasoning or give you a big, up-front flavor bang.
And it's used the world over, in roasts, breads, cakes, puddings, even champagne …
So where does writing factor in here?
Simple: There's a staggering writing opportunity we share with you in this month's issue of Barefoot Writer that's a lot like salt. Simply put, it makes everything better. It's easy to use. Seems small, but has the power to transform.
Most importantly, it'll give everything you write a bigger bang.
That translates to happier clients, more income, and untouchable control over your life.
Our June issue also offers tips on reshaping your brain for greater creativity … "stealth satisfaction" for you and your clients … and tactics to avoid "flying squirrels" that block your success.
Also, don't miss our interview with digital marketing expert Russ Henneberry, who shares solid-gold advice on how to "future-proof" your writing career.
Click here now to read your June issue of Barefoot Writer.
If you're really serious about launching your writing career — and fast — then I HIGHLY recommend you join our Barefoot Writer Club. It's for folks like you, interested in making a living writing and getting paid for it, and ready to step up and take control of their lives.
Along with a full subscription to each new Barefoot Writer magazine, you also get access to our treasure trove of over 100 back issues, each one packed with tools and tips to help you launch your writing career fast.
And if that weren't enough, Club Membership also gets you admission to our Barefoot Writer Private Facebook Group where your fellow writers actively engage in growing their businesses, sharing advice, and answering the burning questions that might be holding you back.
Plus, there are other club bonuses, like the deep monthly discounts on writing programs designed to fit your goals. You'll also get our value-packed writing opportunity reports, including The $500 Email Secret, Get Paid to Surf the Web, The Secret of the 1-Hour Work Week, and The Lazy Writer's Path to a Six-Figure Income.
Each bonus has been specifically designed to give Club Members the best information possible for getting a successful writer's life up and moving at lightning speed.
Perhaps you're ready to take that step … if so, click here to learn more.