The Leap and What Every Writer Needs to Know About It

Monday's Emergency Briefing caused huge buzz and excitement here at AWAI …
And not just because we reached the max limit on Zoom before we even started!
But instead because of the impact it will have on your writing career.
So, in case you couldn't get in (sorry about that!), I want to fill you in on what's going on and what it means … for you, your income, and your future as a writer.
Let me explain …
As you already know, e-commerce is huge. By e-commerce, I mean people going online and buying stuff.
It can be physical goods, like golf clubs or shoes.
It can be services — like coaching or accounting.
Or even digital training, like the programs you get from AWAI.
Now, e-commerce is a $3.5 trillion industry.
That's trillion with a T.
Which sounds like a lot!
But what if I told you that $3.5 trillion in e-commerce is actually very small?
Take a look at this: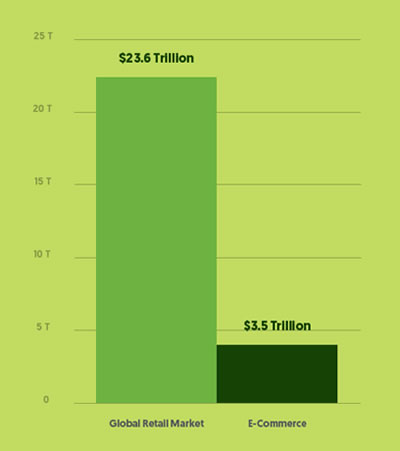 That big bar on the left? That's the global retail market.
It's a massive $23.6 trillion industry.
As you can see, e-commerce looks like a small blip on the radar in comparison.
Now here's what "The Leap" is … and why it's so significant …
Experts around the world thought e-commerce would slowly "catch up" to retail … over the next 10 years.
Well, they were sorely mistaken.
The kind of growth in e-commerce we would expect over the next 10 years …
… happened in just 90 days.
I'll say it one more time, because this is so critical:
10 years of growth and adoption with buying stuff online … happened in a three-month period.
It's why global management consultant McKinsey & Company says:
"If you're feeling whiplash, it might be the 10 years forward we just jumped in 90 days' time."
They're the ones calling it "The Leap."
Take a look: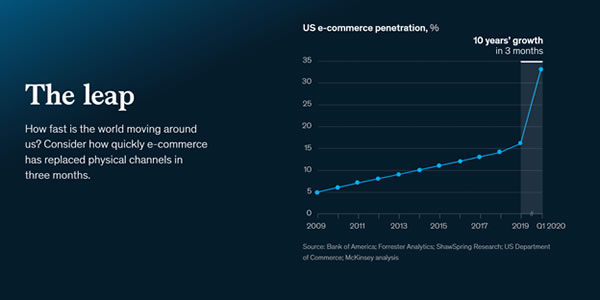 So, what does this mean for you?
More people — than ever before in history — are going online and buying stuff.
Companies are scrambling to take advantage of this opportunity. In order to do so, they need more content. Lots of it …
They need content to reach prospective and current customers, engage them, build a relationship, and move them towards a buying decision.
They need a variety of content types to open up marketing channels now primed with potential buyers.
And they need a massive quantity of unique and compelling "conversations" to take advantage of the "leveled playing field" that has just happened, thanks to the sheer volume of buying decisions starting with blogs, newsletters, videos, social media, and more.
I believe writers who know how to write and fulfill the demand for this tsunami of content will soon be among the most in-demand and highest-paid professionals out there.
If you were thinking about becoming a writer … if you've been thinking about launching your writing business …
… or if you want to inject a huge flood of income into your existing writing career …
… NOW is the time.
Because this has poured ROCKET FUEL on what is already a pretty hot trend we were seeing for writers.
What's more, content is hands-down the best place for a new writer to earn their stripes.
Because instead of writing long sales letters (which can end up being 10 or more pages of writing) …
… you get to write short pieces like blog posts, social media posts, Facebook Ads, and newsletters.
Most of these are at just 500-1,000 words. And once you've written one of these … you can spin it off into other pieces of content you'll ALSO get paid to write!
During the Briefing on Monday, we showed you how this works … and taught you how to turn a $250 blog assignment into a $2,500 content assignment, with very little additional effort on your part.
Russ Henneberry — my guest expert for the Briefing — has used this tactic with great success to make a lot of money, and help build up business for very satisfied clients.
On Monday, Russ also explained how to move fast in this field by "productizing" your content projects … how to use "The Leap" to quickly sell your own value as a content writer to companies … and even gave you some examples of "spun content," so you could see firsthand just how easy these projects can be.
Russ is definitely the one to learn from …
He's the co-author of Digital Marketing for Dummies and created a unique, "proprietary" method for writing and spinning content that gives clients big wins and makes you a very in-demand Content Specialist.
And next week, he'll kick off AWAI's first Content Certification (all the details are here).
If you'd like to see the full replay of the Emergency Briefing, you can still catch the replay here.
But I'll keep you updated the rest of this week on what is coming as a result.
It's an exciting time to be a writer!

The Professional Writers' Alliance
At last, a professional organization that caters to the needs of direct-response industry writers. Find out how membership can change the course of your career. Learn More »

Published: April 21, 2021