7 Ways to Make Money as a Writer … Without Clients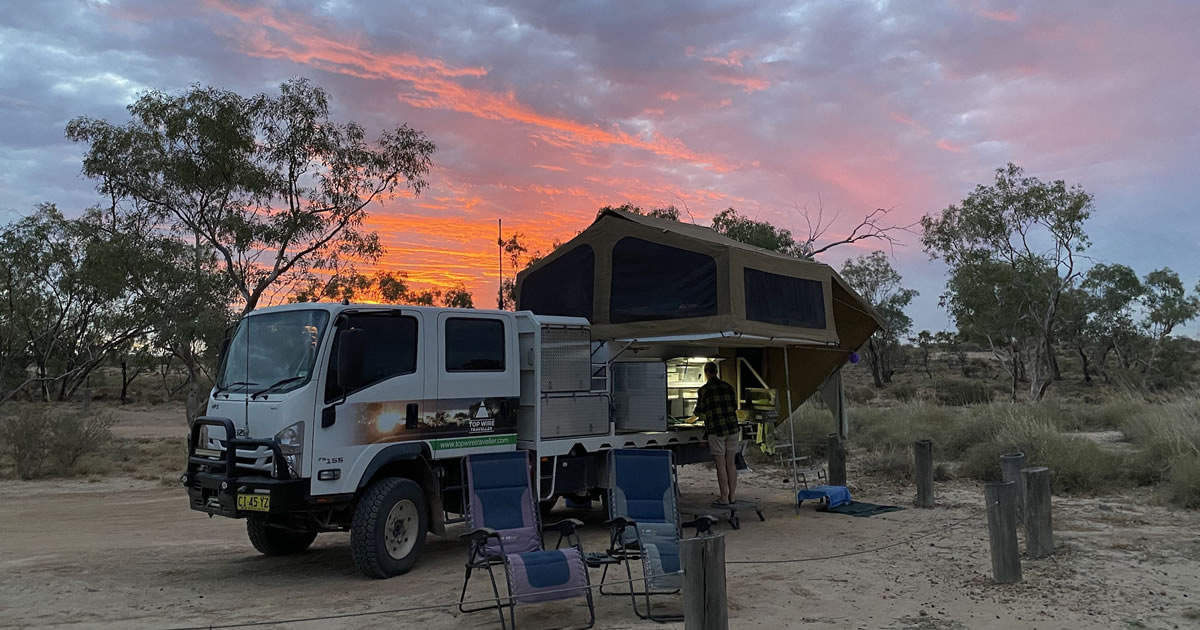 Andrew Murray's remote writing "office" in an Australian Outback National Park
Once in a lifetime, an event might come along which affects all of us, worldwide. What was once certain is now less certain.
World War I, the Great Depression, World War II, the Cold War, the Global Financial Crisis … and now the worldwide pandemic.
And you know what? Sometimes life-changing events are exactly what we need to kick us into gear and make our dreams real.
Take the global pandemic, for example. It has shaken many of us out of our complacency … we've realized we need to take control. Whichever direction you look, people are searching for ways to take control of their lives and their finances.
One way is to build your own side business, one which will continue to provide an income no matter what's happening around the world.
A Money-Making Website is an ideal way to do this.
It can be what you make of it … a "side gig" to pay school fees plus a few bills, or your full-time income, or somewhere in-between.
My favorite part of having a Money-Making Website? I don't need to find clients. No stress, no deadlines, no clients. And I get to write about a topic I'm interested in.
You can do this too … and earn a healthy side-income.
Be your own boss:
Only write about what interests you. No more writing about products or services you don't really believe in or care about.
Set your own deadlines. No boss to hassle you about deadlines, word counts, or making your copy more "hype-y."
Publish whatever you want.
Decide whether you're happy to earn some extra cash or to ramp up your Money-Making Website to make a living off it.
Build a community of like-minded people.
That's what I call taking control of your life and your finances!
By now you might be wondering if it's really possible. Are writers really earning an income from their Money-Making Websites?
Yes, they are. I'm one of them!
(I'm following the proven process set up by digital expert Nick Usborne. He's made over $500,000 from his coffee website, writing a few hours in his spare time. Amazing.)
Turn Your Passion into Income
My wife Peta and I travel around Outback Australia full-time. It's our passion. A few years before we left, I started a Money-Making Website called Top Wire Traveller.
Our Money-Making Website covers:
Detailed information on remote Outback Australian destinations.
Product reviews on equipment related to Outback travel.
Preparing to travel … what you need to know before you leave home.
Detailed information on our truck and camper. It's a unique set-up and attracts plenty of interest.
Now, at first I spent time writing articles, finding suppliers to provide high-quality equipment for reviews, and so on. So this was the building phase of our business.
But now, I simply write occasional articles, add an occasional video, and update old articles. The business is established, so I can ease off.
But how do I earn money from it?
With passive income.
Passive income is fantastic. You set it up once on your website and it continues to bring in an income … even while you're off indulging in your passion!
So let's take a closer look at seven ways to make money as a writer, without clients … seven ways to earn passive income from your Money-Making Website.
1. Google AdSense
When you do a Google search, the first few listings are paid ads.
You can place ads like these on your Money-Making Website.
Whenever I write a new article, I include up to three Google ads. Google inspects each page on a website to understand what it's about. Then it places ads that are relevant to the context of each page.
So when a reader finds my page on selecting solar panels for your vehicle, they'll be presented with ads related to solar panels. So they're more likely to click on the ads.
And every time they click on an ad, I get paid.
Even if I published an article five years ago, it keeps earning money … without me doing anything to it.
2. Affiliate Marketing
You've all heard of Amazon. But what you might not know is they have what's called an Affiliate Program.
You join their program and they give you a unique code. Every affiliate link you add to your site includes this code. So when someone clicks on your link and makes a purchase from Amazon, you earn a commission.
Here's an example of an affiliate link.
Say I write a review about car battery chargers. At the end of the review I'll add a line, "If you're looking to get yourself a reliable battery charger, the Product X Battery Charger is available here."
The thing to remember is, I don't sell battery chargers (or any physical products). Affiliate networks enable me to link up with businesses who do sell products … and are prepared to pay me a commission to sell them. And I don't have the hassle of handling physical products.
There are dozens of affiliate networks to choose from, aside from Amazon. These networks match businesses with affiliates like yourself.
Just like Google AdSense, once you've added an affiliate link to your web page, it keeps earning you money … without you lifting a finger.
3. Advertising
You can use more traditional advertising to earn an income from your Money-Making Website. These are usually banner ads placed on your site.
You're selling advertising space on your website. You choose advertisers who fit the topic of your site.
Normally, you'll charge for a block of space on your site. It could be a monthly or yearly fee, or you might agree to take a small percentage of the revenue generated by the ad.
4. Product Reviews
If you're going to do a product review, then you first need a product to review, right?
Here's how it works.
You contact businesses and ask them to send products to review. When you've done the review, you get to keep the products. If there's something you need and the business is willing to send one for review, you'll get it for free!
So I love product reviews … and more importantly, our readers love them too! The readers like them because they provide useful information.
I like them because they're an ideal way to pre-sell. If you add an affiliate link at the end of your review, you'll likely make sales.
You make sales and get free products. That's a good deal!
5. Courses and E-books
Courses and e-books are electronic, they live online. Once you build a course or write a few e-books, your work is done … apart from the occasional promotion to keep the sales flowing.
There's no physical product. No printing costs, no delivery costs, no hassles. People from anywhere in the world can buy your product, even while you're sleeping or taking a vacation.
And once you've written the course or e-book, you have no costs. Every sale is passive income.
6. Stock Photos
If you're a keen photographer, consider selling stock photos. First you join an online stock photo "store." Then when someone buys your photos, you get paid.
Or if you'd rather maintain control of your photos, sell them through an online store on your website instead.
You don't need to be a professional photographer. Photos and short videos taken with any modern smartphone are fine.
7. Memberships
Once your site is established, consider offering a paid members-only area. Members pay to access this special area.
In return, you offer a higher level of information.
You offer specialized and in-depth content which is of high value to your members.
Another option is to give paid members exclusive access to a regular Q&A, where you answer their questions. A Facebook Live session is a great way to do this.
Memberships are an excellent way to grow your income because you are targeting your most loyal followers … and they're more likely to buy from you.
Money aside, membership sections can also the ideal way to develop a tight-knit community.
Take Control of Your Life and Your Finances
If you're searching for income from a "side gig," Money-Making Websites are a great option. Match your writing skills with an interest or passion and create your own site.
Then choose one or more of these, to earn money from your site:
Google AdSense
Affiliate Marketing
Advertising
Product Reviews
Courses and E-books
Stock Photos
Memberships
It's the best of both worlds. You write about a topic you're passionate about, with no hassles of dealing with clients … and you earn an income.
What better way to take control of your life and your finances in these uncertain times!
Do you have a question about earning an income from a Money-Making Website? Let us know in the Comments.

How to Build, Write, and Grow Your Own Money-Making Websites
Learn how to write an information website in your spare time and earn $1000, $3000, even $5000 a month in passive income. Learn More »

Published: July 6, 2021