No Clients? Make Money Writing on Your Own Website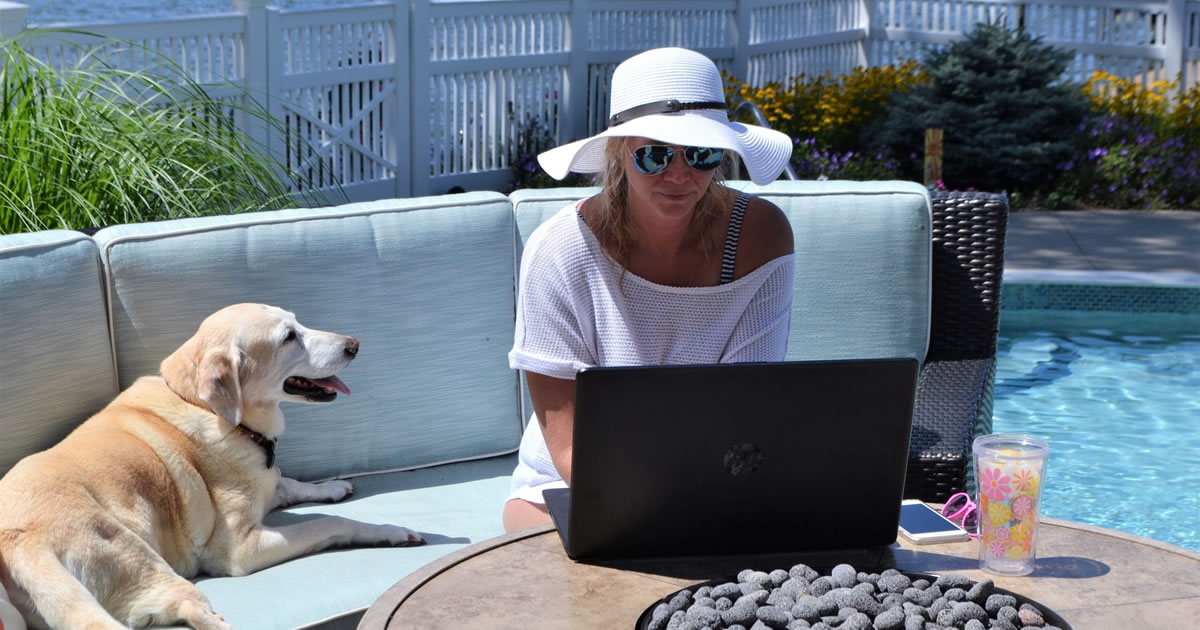 Did you know you could start writing about a topic you love and get paid for it … without having a single client?
It's true.
You can choose a topic you know and love and start writing on it right away. You'll have complete control over the topics you write on, when you write, and how you make money from it.
I started this back in 2005 and credit it with launching my freelance writing business.
My topic was dog treat recipes and I gave away … you guessed it! Dog treat recipes. I made money every month by writing about a topic I was interested in and attracted new readers monthly (87,500 visitors a month at its height!).
Eventually, I launched myself as a pet industry copywriter, thanks to my experience writing about dog treats, health, and nutrition.
I know someone who's done the same thing about a small island in the Caribbean … and online expert Nick Usborne has done it with his interest in coffee.
What am I talking about?
It's a Money-Making Website!
With your own Money-Making Website, you can choose any topic, start writing, and share useful information with like-minded people.
You already know people turn to the internet for information about topics they're interested in. You can help them learn more by sharing your experiences.
In fact, there are people making thousands per month simply writing about topics they love! Nick says he averages $3,500 per month writing about his love of coffee.
Plus, it doesn't have to take a lot of time. A couple of hours a week can help you build a fun income source. I worked on mine a few hours a week while working full-time.
Perhaps even better than the money is the feeling you get from connecting with other people who share your interest! Imagine if your interest is Alaskan Cruises. You're going to get to share your love of Alaskan scenery, wildlife, and cruising with other enthusiasts.
A Money-Making Website also boosts your confidence. When people respond favorably to something you wrote, it's exciting! And it improves your writing skills because you're writing more so therefore, you'll get better.
8 Reasons Why It Makes Sense to Start a Money-Making Website
1. Building Your Skill Set — No matter how experienced we are as writers, there is always room for improvement. When you write consistently, you get better and when you have a topic you're excited about, it's easier to find the motivation.
Plus, writing for a Money-Making Website means you're also improving your SEO skills and your persuasive writing abilities, which will translate into skills you can demonstrate to your clients.
I knew nothing about writing for the Web or SEO when I started my dog treat site and I grew it to 87,500 visitors per month strictly through writing about related topics that people were searching on. I used that hands-on experience to land my first small business clients.
2. Samples — Let's say you start a Money-Making Website on growing roses in the Northeast. After a couple of months of writing part-time, you start getting questions from readers, which will inspire you to write more content answering those questions. And so on.
Then, you realize you'd also like to write for gardening publications or businesses. You can reach out sharing links to relevant samples from your website and even proof of existing readership!
3. Multiple Income Streams — Everyone loves having multiple income streams and with a Money-Making Website, you can have many:
Affiliates
E-books
Ads
Your own products
Membership
With my dog treat site, I made money with ads and as an affiliate selling other people's products.
4. No Permission Needed — With client writing, you find the prospect, determine how you'll work together, and wait. Maybe they're ready today and maybe they'll be ready in three months, meanwhile, you can be working on your Money-Making Website and building a separate stream of income!
5. It's Fun — If you love to write and you have a topic that excites you, then you'll love writing your Money-Making Website. You'll attract excited readers who'll spur you to learn more. When I started my dog treat site, I had no idea dogs could develop allergies, but when my readers started writing in and asking questions, it sparked my interest in new ways.
6. It's Spare Time — Your Money-Making Website can make you a full-time income (and then some) in just a few hours a week. It's the ideal side hustle. Could you find a couple of hours a week to write about a topic you love?
7. Low-Tech — No "coding" needed. Today's websites don't require a lot of computer "know-how" so you can focus on the parts you like the best — writing.
8. No Limit — You can take it with you if you move, you can continue adding to it for years, you can even sell it if you decide you don't want to run it anymore.
What do you think? Are your wheels turning about what you can write your Money-Making Website on?
Why not take a moment and write down five potential topic ideas?
What questions do you have about creating extra income with your own Money-Making Website? Post them below so we can get you the answers.

How to Build, Write, and Grow Your Own Money-Making Websites
Learn how to write an information website in your spare time and earn $1000, $3000, even $5000 a month in passive income. Learn More »

Published: April 13, 2021