Living the Writer's Life: Joseph Battrick
Hold Your Breath for This Copywriter's Winding Path to Freedom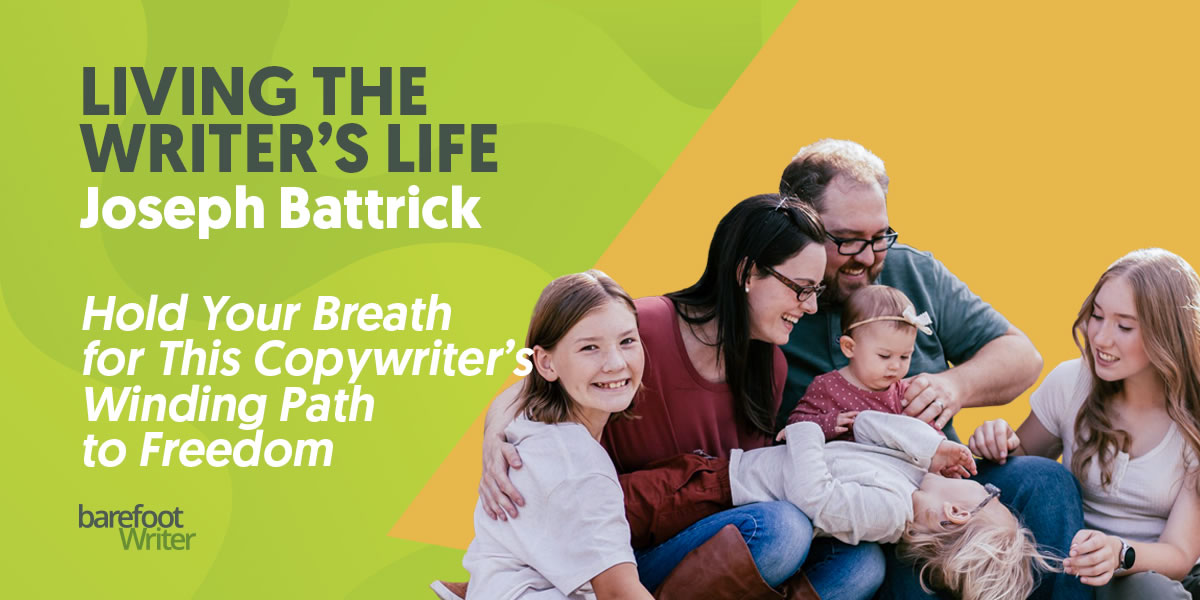 For Joseph, the best part of living the writer's life is more time with his kids.
Joseph Battrick has done it all. He's worked as a journalist, funeral director, and insurance salesman, and even tried a job in aerospace manufacturing. But this passionate performer wanted something more. He wanted a job with flexibility … one where he could be creative and work on his own terms. So today, Joseph is thrilled to be the newest face on AWAI's in-house writing team. Here is his story …
What sorts of early life experiences fueled your passion for writing as a career?
I grew up in a family of writers and readers. At the very least, we are all "word people." I often say I was weaned on Scrabble and my parents' massive collection of science fiction novels. My dad is a writer, and he tried his hand at magazine freelancing when I was young. One of my favorites was a story he wrote about tugboats on the Columbia River. I loved to hear about his adventures with the crews of several of the boats as they pushed barges up and down the river.
I understand you worked in journalism. Can you tell us about that?
I wrote for my college paper and served as the arts-and-entertainment editor for a year. Later, I got a job as the news clerk with my hometown newspaper. From there I worked my way up, starting as a news reporter, then entertainment reporter and columnist, and also worked on the copy desk for a while.
Print journalism didn't pay very well, however. And even in those days of the early 2000s, there was a sense that newspaper publishing was weakening. With a baby due in the summer of 2005, I left to work in a different industry.
I bounced around in a variety of industries for years, spent nearly a decade as a funeral director, tried (and failed at) insurance sales, and spent time in a few other random fields. But I really wanted a job where I could use my natural creative talents.
In the spring of 2020, just as I was laid off from my job in the aerospace manufacturing industry, I discovered Mindy McHorse's story from AWAI. I felt an instant attraction to the idea of becoming a copywriter.
Can you tell us about the types of writing projects you work on today? What's it like writing for AWAI?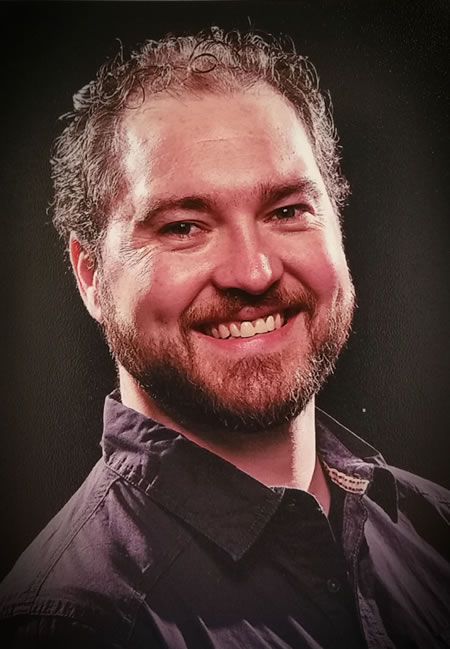 Joseph Battrick is the
newest in-house writer
for AWAI.
I run my own freelance business, Mutant Tenor Communications (which encompasses all of my services, from writing to voice-over to live stage performance and singing). The copywriting bit is still very much a work in progress. I loved Pam Foster's content auditing course … It was the first intensive I took with AWAI and really set the tone for what I want to do as a freelancer.
Working as an in-house copywriter for AWAI is basically a dream starting job. I loved the courses I took from AWAI as a member, and now I get to write promotional material for them to reach out and help other people achieve the same kind of success that I am finding. Right now I'm primarily working on email funnels and short ads, but I look forward to writing entire promotions in the near future.
When not writing copy, in what other ways do you enjoy expressing yourself?
Performing is my passion. I studied vocal performance and theater in college before completing an English degree. I spend as much time as I can on stage … performing in musicals, stage plays, and the occasional opera. I've also performed with a professional-level choir in my area since 2005.
What do you think are the most important things for a new writer to do so they can be successful?
Trust the process. Don't skip steps in the programs you are taking, especially the ones that teach the fundamentals of persuasive writing.
And be patient. It's true that there are people who succeed very quickly in this industry … but for most of us, it takes a little bit of time. This is an industry where consistent effort and perseverance will bring results.
Do you have a favorite joke or party trick you like to show off to friends?
Well, as a singer, I have a prodigious lung capacity. I once held a note for one minute and 28 seconds … which exceeded the Guinness world record at the time.
Joseph's Living The Writer's Life story was originally published in Barefoot Writer. To learn more about how you can start living your dream writer's life too, click here.
What help do you need to move forward with your version of the writer's life? Let us know in the comments below so we can help guide you in the right direction.

The Barefoot Writer
Discover a lucrative style of writing that will give you as much freedom as you can have while earning a great income at the same time. Learn More »

Published: September 25, 2021