Living the Writer's Life: Brian Whitaker
Self-Driven Writer-Turned-Agency Director Adapts and Thrives with the Times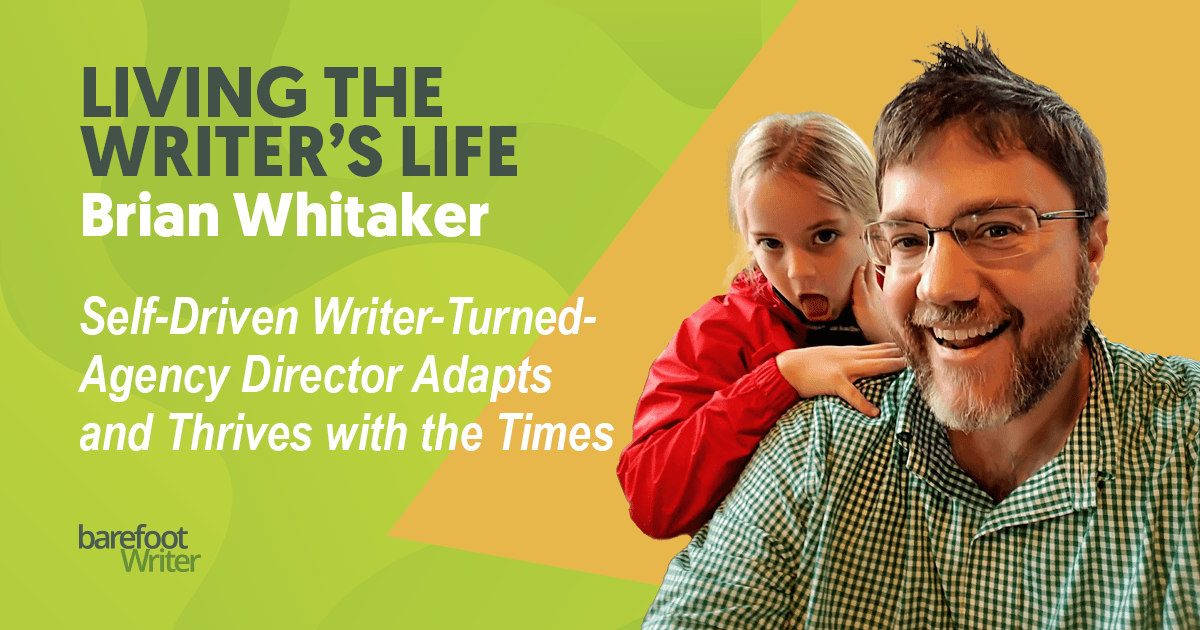 Brian enjoys time with his daughter.
We first interviewed Brian Whitaker a decade ago, right after he'd left a successful career as a marketing manager for life as a Barefoot Writer. At the time, Brian reported corporate life had been keeping him from his family, community, and other interests. He wanted balance. Find out how, 10 years later, he not only found that balance but said goodbye forever to the feast-or-famine cycle and is thriving with new projects and tools (including AI!).
How has your career evolved over this last decade? Have there been any unexpected twists or turns that you didn't see coming?
Well, when I started off, what I really thought I was going to be doing were relatively urgent quick-fix projects for organizations. It was something I was familiar with from my corporate life, and I discovered that there was massive demand for it, but there were smarter, better ways to make a living. So, fairly quickly — at least within a couple of years of launching my company, Zettabyte Content — I transitioned to only doing long-term engagements with both a content creation and a content strategy component.
Those engagements have lasted anywhere from three months to 27 months in one case, and they're built on a retainer model plus monthly pricing. It basically solved any kind of cash-flow problem that comes up when you're just taking ad hoc projects. Sort of solved the feast-or-famine issue.
Do you have a large team that you work with at Zettabyte, or is it primarily you who's doing the content creation and strategy?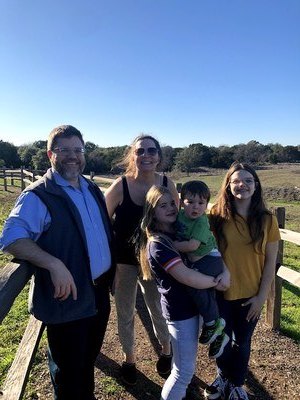 Brian and family on a sunshine-filled
outing in the Hill Country
west of Austin, Texas.
I do all the strategy work, and then I do about 60% of the content creation. The rest of the content creation is done by an always-changing collection of specialist writers. Where we are different from the typical agency is that agencies are really good at finding writers; what they're rarely good at is finding writers who have technical expertise in a given area.
Thinking back to all these different clients that you've worked with, are there any that really stand out as maybe your biggest wins that you've experienced with your business?
Sure. There's a client we worked with for about nine months this year, a pretty well-known telecommunications company. And you wouldn't believe this, but their website and their marketing presence was extremely rudimentary because they'd always been an engineering and sales-led company. They hired their first CMO at the beginning of the year, and her task was to create marketing — that's what it came down to — at this company. Build a fully fleshed-out website, build demand generation campaigns, build content out. And she brought us on board to support that.
That sounds incredible. You said you do 60% of the writing yourself. Are there any sorts of tools or technology that you rely on?
Yes. So, among my clients, I've really seen a shift over the past few years from people who use Microsoft Word to people who use Google Docs. And that Workspace suite from Google has become the preferred collaboration set for a lot of start-ups and even enterprises.
We do use Jasper.ai, an artificial intelligence tool, for ideation and coming up with different angles on content, because it's quite good at doing that.
I'm curious about the Jasper.ai. You said you use it for ideation. What's the process like? And is there still a role for the writer?
We specialize in technical, pretty much. Not all of what we do is long-form content, but a lot of it is — white papers, e-books, case studies, evaluators' guides, buyers' guides, that kind of thing — and Jasper is helpful in a few ways for that stuff. It is helpful for tweaking tone. We can plug some content into the tool and say, "Make it more enthusiastic," or "Make it more professional," and it will do that.
So it serves as a good idea generator, really. Tell me, what is your favorite part of your writer's life and working for yourself and running your business?
Well, you know, I've been doing it for a decade. Really the biggest piece for me has been the capacity to control my time and income. I have three kids, and having the flexibility to drop what I need to drop and go pick up the kids, or go and attend a school function, or, if there's a holiday, be able to manage the kids for a week without a whole lot of consternation, is really valuable to me and has been probably the best part of doing this over the past 10 years.
Brian's Living The Writer's Life story was originally published in Barefoot Writer. To learn more about how you can start living your dream writer's life too, click here.
What help do you need to move forward with your version of the writer's life? Let us know in the comments below so we can help guide you in the right direction.
Published: February 25, 2023