Living the Writer's Life: Jessica Vine
RV Blogger Goes from $10 Articles to a $100K/Month Goal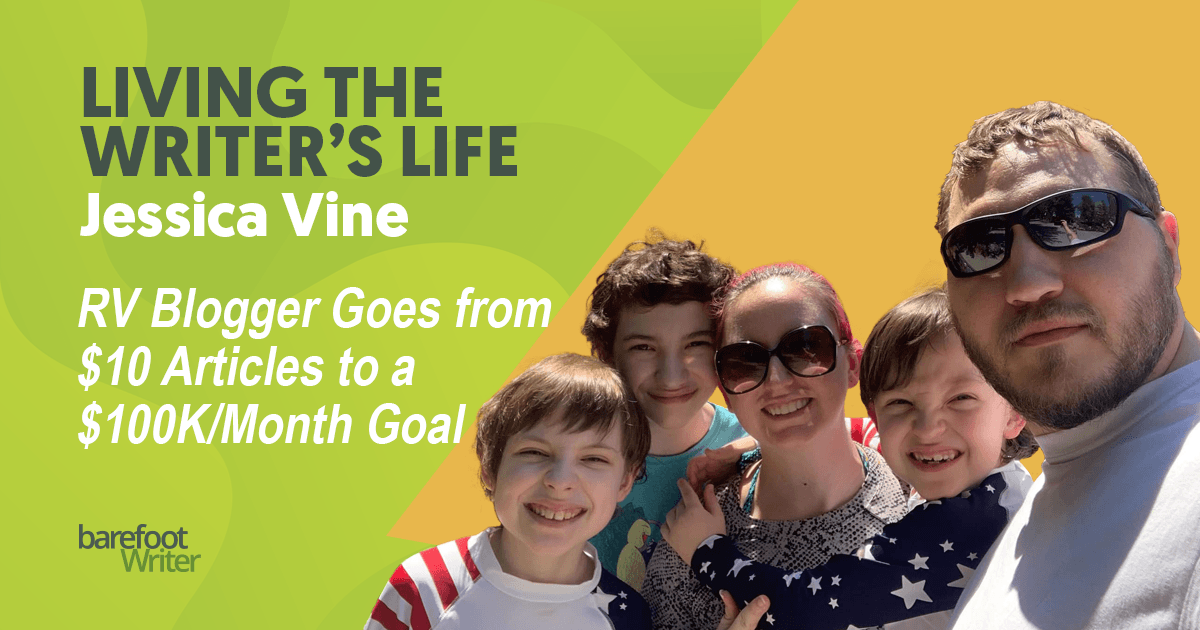 Jessica and her family enjoy the Splash Country water park in Pigeon Forge, Tennessee.
When Jessica Vine first entered the world of paid writing, she wanted to be a travel writer. But she strayed from that dream for too long, writing $10 articles on a topic she wasn't passionate about. Then, she did something profound … She decided she wanted to be paid more. It was a turning point where Jessica started to see real success, especially with her RV blog. Today, her goal is to exceed $100K per month! And, you know what? She's going to reach it! Here is her story.
What initially sparked your interest in writing?
Since the time I was little, I've loved to read. So the natural thing for my mind was, Well, if I love reading, people must love writers. I like to be loved, so I want to write. My little 8-year-old brain was really putting it together.
And what led you to copywriting?
Initially I was like, Some people get paid to do travel blogs. And I really tried, and I failed very miserably. No one wanted to read, or at least I didn't know how to get the traffic to the site.
So then I started writing for different bloggers who wanted not-expensive copy. I worked for this one nationwide pool company. I was naive: I was writing these thousand-word articles on pools for 10 bucks. I'm not even kidding. I don't even swim, so it's ridiculous. For six months I wrote 80 articles a month for them for that price. When I asked for a raise, they fired me.
I'm sure you were better at weeding out bad clients after that.
Yeah. I remember reading Barefoot Writer and I was like, Wait a second: You get paid how much? If you don't know, people know you don't know, and they will be more than happy to have you work for peanuts. So I was like, Okay, well, it can't just be as simple as making a decision to get paid more, right? Well, yes, it can.
Wow. I love that!
Think about it like this: If you had to talk to a hundred people to find someone who was willing to pay you 50 times more, would it be worth it? Or would you rather take one of the first five? So just talk to more people. Find the right people who realize your commitment to excellence, and if you're specializing in a certain niche, it's a lot easier to find those humans.
So you made the decision to be paid more and then started your successful RV blog. Do you have any goals you can share with us?
Besides writing, my husband and I also invest in real estate. So with our blog, if you really want to zoom out within the next five years, our goal is to make over a hundred thousand dollars per month with the publication.
Oh my gosh, that's awesome.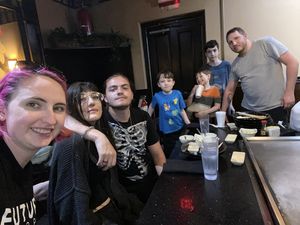 Jessica enjoys eating
Japanese food with her family.
It helps that I have friends who are doing it and they're not any smarter than I am. So it's going to happen. I know how to do it. I would've never thought that was possible. I feel like if you can meet people who do what you want to do and then some, you can really start to see what's possible a lot faster.
That's great advice. What helps you do your best work?
I need to be in the zone, because I get really easily distracted. So I put on my headphones, I usually put my desk in stand-up mode, and then I'll put on some music. If you're standing up, it's less likely that you're going to be tired or drowsy. So that's what I do.
I just got this thing that sits on top of [my desk], and it rises up whenever I want it raised and then it lowers whenever it wants, and it's only, like, 50 bucks.
What do you love most about your writer's life?
Oh, well, 100% that I can write from anywhere. I mean, my family and I RV'd for two and a half years, and as long as I could get an internet signal, I could create money out of thin air. Probably one of my very favorite spots was when we went down to the Grand Canyon.
Jessica's Living The Writer's Life story was originally published in Barefoot Writer. To learn more about how you can start living your dream writer's life too, click here.
What help do you need to move forward with your version of the writer's life? Let us know in the comments below so we can help guide you in the right direction.
Published: January 28, 2023