Affiliate Update:


Convert Buyers at 23% With The Hot List

In our last newsletter I shared a few new lift notes that have been working well for AWAI. Hopefully you got the chance to test them out. If not they can always be found here.

This month I want to tell you about a method we have been using for about a year to convert buyers successfully here at AWAI called the "Hot List."

While far from a new concept, sometimes it just takes some tweaking to get an effort to be the right mix of method, copy and list.

So I will pull back the curtain and reveal exactly how AWAI has been using this method to convert names into buyers for our flagship course, The Accelerated Program for Six-Figure Copywriting … and how you can do it too. The most successful conversion rate so far has been 23%. You can't beat that number!

It all starts with a long form essay that you send out to your list about the benefits of copywriting and of having what Mark Ford dubs "a financially valuable skill." In this case, the skill of copywriting. At the end, the essay gives away a free report.

The essay is the first mention of an offer. Towards the end, but after you are given the chance to download the report, it makes a simple mention that "if you like what you read, you are going to be given a special offer on the Accelerated Copywriting Course".

The link takes you to a simple sign-up page where we collect the person's name and email address and not only gives them access to download the report but also behind the scenes adds them to a "hot list" which we can then use to market the offer effectively post download. This sign-up page makes no mention of a sale, only the benefits that you will learn in the free report.

Once you give your email, you are redirected to a thank you page. You can download the report here but you are also exposed to a testimonial/success story of a copywriter who is making it and has been trained with this product. You are again given the special offer. This is the second mention of the offer in this process.

The report you download is 56 pages long and includes a lot more details on the copywriting opportunity, market, etc. It is not only chock-full of great information, but also contains a push for the sale towards the end. This is the third mention of the special offer.

Anyone who signs up to download the report then gets dropped into a 3-part auto-responder series where we continue to ask for the sale in a more traditionally direct way. It also lets them know that they only have a week to respond to the special offer to ratchet up the urgency. The first of the three mentions the deadline, the second comes the day before the deadline and says it expires tomorrow, and the third is launched on the deadline date and gives them until midnight to respond. It effectively includes the "last chance" strategy I have talked about in past newsletters.

Partners who participate are offered the choice of either running the auto-responder series themselves, or having AWAI do it for them. Either way, AWAI doesn't keep the free names. After the 3 auto-responder emails run to this "hot list," they're deleted from the system. (AWAI is much more interested in buyers than free names)

Most of the people convert from the auto-responders but we do have some who purchase from both the report download and the thank you page.

While this may seem like a complicated process, once you get it set up you can use it again and again with ease.

I have been using it for my name acquisition efforts but AWAI has also used it internally on our house lists to increase the dollars per name of a buyer or convert any free names that we do have to paid.

So how can YOU benefit from this information? In the following two ways …
copy the method and customize for your own file
contact AWAI to run this specific series using your own affiliate links
If you are interested in the latter, please send a note to me at affiliates@awaionline.com and I will review your eligibility on a case by case basis.
To a profitable partnership,



Jessica Kurrle
American Writers & Artists, Inc.
Biggest Career-Boosting Event of the Year!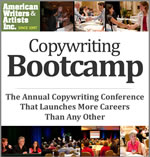 Get million-dollar industry secrets and cutting-edge techniques straight from the experts who created them …
Network with fellow writers of all levels and build a support team to keep you motivated and on track …
PLUS land new clients – or your first client – at our ultimate job fair for freelance writers …
Join us for our biggest writer's event of the year to get all this and more!
Published: August 1, 2013