Charlotte Hicks:
Opportunity Abounds for B2B Copywriters
"B2B copywriting has opportunities for new writers, experienced writers, and everyone in between. It's one of the easiest and surest paths to a six-figure copywriting income because B2B companies know the value of a trained copywriter and are willing to pay professional fees to freelancers.
I often refer to the B2B market as a secret hiding in plain sight. For every consumer product you see, there are many B2B companies in the background providing the components, packaging, and shipping. And nearly all of them need copywriters!
Plus, the market has thousands of niches from information marketers to professional services to corporations of all sizes. And, you can choose from direct-response copy, articles, case studies, white papers, and much, much more.
In B2B it's possible to customize your copywriting business so you're working with the types of companies you like most, on the projects you most enjoy."
—Charlotte Hicks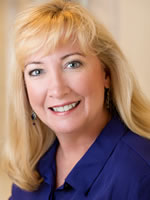 CHARLOTTE HICKS decided to join AWAI's Circle of Success in the spring of 2010, to fully commit to being a freelance copywriter, and she has never looked back!
With a background as a tax accountant for a Fortune 500 firm and extensive experience in the insurance industry, she has been able to use her experience to establish a copywriting business serving the insurance and information marketing industries. Charlotte has worked with clients all over North America and as far away as South Africa, Slovenia, and Russia.
She is the managing editor of B2B Writing Success, a Circle of Success Instructor, and the founder of Nowpreneur, which provides marketing services to insurance, financial, and accounting companies.
Charlotte enjoys working from her home office overlooking the Intracoastal Waterway in North Carolina. She is a PADI SCUBA instructor and an award-winning underwater photographer.
Books by Charlotte Hicks
A Business Success Journal – Straight Talk by Real People (co-author)
The Nowpreneur Manifesto (publishing late 2016)
Articles by Charlotte
B2B Writing Success (Managing Editor)
This Could Be the Fastest and Easiest Way to a 6-Figure Income …
One of the fastest, surest ways to reach six-figures or more as a freelance writer is to focus on the B2B industry.
B2B companies know the value of what you do. They spend $6.5 billion dollars yearly on marketing alone …
That means a properly trained, professional writer like you can have your pick of high-paying projects. The demand for your services is never-ending, there's a variety of projects. You really just need to connect with your clients and you'll be on your way.
And B2B Writing Success has everything you need to get there.
As a platinum member, you'll get instant access to these business-building essentials:
A library of articles—added to daily—covering every topic from B2B video scripts to promotional emails, from case studies to social media marketing, from lead generation to web writing, and much more!
Business-building guides to help you every step of the way. Whether you need business basics or advanced marketing strategies, advice on landing and working with clients, or a insights on how to set your fees or how to raise them, it's here.
Top B2B experts, including Steve Slaunwhite, Gordon Graham, Ed Gandia, Bob Bly, Nick Usborne, and many more weigh in regularly in live training sessions.
Easy-to-use templates for any B2B project that comes your way.
Business roadmaps to guide you at every turn. You'll always have a direction, a goal, and a step-by-step plan to get there.
And much, MUCH more!
The B2B Writing Success library is expanding daily, with up-to-the-minute advice you need to achieve success fast.
And, if there's ever a resource you feel could help you write faster … land more clients … or boost your income, just ask! Our editorial staff will write the report … record the interview … or schedule a webinar with the right expert.
Whether you're brand new to the writer's life or you have a few years of experience under your belt, this living resource gives you the stability and guidance you need to reach the success you deserve.
B2B Writing Success: The Complete Guide to Making More Money as a Top B2B Writer: $49.00 to sign up and just $49.00 a month for as long as you keep the subscription.