Clayton Makepeace
Direct Response Copywriting Legend
"If you can arrange it, be born into money; preferably a vast fortune.

"Failing that, be born with world-class good looks, with a heaping helping of acting, musical, or athletic talent.

"If you are unable to arrange for these things and still seek unlimited wealth and freedom, become a direct response copywriter.

"It will afford you wealth and freedom that is otherwise reserved for the world's most fortunate elite."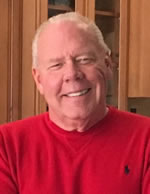 CLAYTON MAKEPEACE
A 43-year veteran of direct response industry, Clayton's hard-hitting sales copy has enabled him to do wonderful things.
Before Clayton, Security Rare Coin had monthly sales of $300,000. One year later, monthly sales hit $16 million.
Before Clayton, Blanchard Rare Coin and Bullion had annual sales of $20 million. After Clayton, sales surged to over $120 million.
Clayton sold two million subscriptions to Phillips Publishing's Health & Healing newsletter.
He generated more than $30 million in sales for Health Resources' "Oral Chelation" supplement.
He built three investment newsletters – The Money Advocate, Personal Health Bulletin and Safe Money Report – into the largest of their kind in the world.
He created online promotions for Weiss Research that generated revenues of up to $18.5 million in as few as 60 days.
Widely known as one of the world's most prolific "A++" level copywriters, Clayton is famous for producing his million-dollar sales pages and direct mail promotions in one week or less.
Clayton Makepeace Articles
AWAI Programs with Clayton Makepeace
Multiply Your Copywriting Income With Video Sales Letters
According to eMarketer, online video was the fastest growing ad format in 2012 with nearly 55% growth.
And according to Internet Retailer, 52% of consumers say that watching product videos makes them more confident in their online purchase decisions. And, when a video is information-intensive, 66% of consumers will watch the video two or more times.
Bottom line: Online video is here to stay and will continue to GROW.
That's why if you want to quickly snowball your income, learning how to write Video Sales Letters (VSLs) is a key skill.
One of the best VSL writers in the business is none other than legendary copywriter, Clayton Makepeace.
Clayton's not only one of the highest-paid copywriters in the world, he's also helped generate over $1.5 BILLION in sales for his clients.
And part of his secret is using Video Sales Letters that SELL.
Now, you can learn his entire system, in his program The Makepeace Method for Making a Fortune Writing Video Sales Letters.
Over the course of 8 sessions, you'll know how to attract million-dollar clients with your VSLs, how to make sure it's a huge success, a simple formula for writing a great VSL every time, and a whole lot more.
This program is a game-changer for your career.
There is simply nothing like this, a proven system for writing VSLs that has been shown to bring in a million dollars a week in sales for your clients (sometimes more).
Imagine what this could do for your career when you can show a client that you're not just a copywriter … but a bona-fide VSL expert.
And more than just saying that, you'll be able to demonstrate in the course of a conversation with a client that you know far more than the average copywriter. FAR MORE.
You'll even know how to put together your own presentation video — SHOWING your client that you know what you're talking about.
Get ready to give your income a BIG boost!
Order The Makepeace Method for Making a Fortune Writing Video Sales Letters now!