Herschell Gordon Lewis:
A Copywriting Legend … and the Undisputed "King" of Slasher Movies
"I used to tell the story that I had a photograph of Abraham Lincoln, and on the face of that photograph it said, "Herschell, thanks for your help with that speech, Abe." I've been at this for a long, long time."
— Herschell Gordon Lewis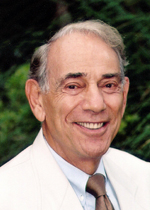 HERSCHELL GORDON LEWIS – No discussion of direct marketing in the past 50 years would be complete without a mention – several mentions – of Herschell Gordon Lewis. The author or co-author of more than 30 books, Herschell is also a widely read columnist. He's written for Direct Marketing Magazine, The NonProfit Times, Multichannel Merchant and several other marketing publications in the U.S. and UK.
Arguably the best-known direct-response writer and consultant in the United States, Herschell's company – Lewis Enterprises – serves clients around the world.
He is also a sought-after speaker, having addressed national Direct Marketing Associations in more than a dozen nations. Herschell served as adjunct lecturer in Mass Communications at Roosevelt University in Chicago for more than 20 years, and has been inducted into the DMA Hall of Fame.
Beyond his career in direct-response marketing, Herschell is also renowned for originating a type of feature motion picture that single-handedly changed the face of horror cinema forever.
Learn More About Herschell Gordon Lewis
Herschell Gordon Lewis Articles
More Articles By Herschell Gordon Lewis …
Books by Herschell Gordon Lewis
Presentations by Herschell Gordon Lewis