Herschell Gordon Lewis:
A Copywriting Legend … and the Undisputed "King" of Slasher Movies
"I used to tell the story that I had a photograph of Abraham Lincoln, and on the face of that photograph it said, "Herschell, thanks for your help with that speech, Abe." I've been at this for a long, long time."
— Herschell Gordon Lewis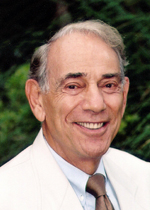 HERSCHELL GORDON LEWIS – No discussion of direct marketing in the past 50 years would be complete without a mention – several mentions – of Herschell Gordon Lewis. The author or co-author of more than 30 books, Herschell is also a widely read columnist. He's written for Direct Marketing Magazine, The NonProfit Times, Multichannel Merchant and several other marketing publications in the U.S. and UK.
Arguably the best-known direct-response writer and consultant in the United States, Herschell's company – Lewis Enterprises – serves clients around the world.
He is also a sought-after speaker, having addressed national Direct Marketing Associations in more than a dozen nations. Herschell served as adjunct lecturer in Mass Communications at Roosevelt University in Chicago for more than 20 years, and has been inducted into the DMA Hall of Fame.
Beyond his career in direct-response marketing, Herschell is also renowned for originating a type of feature motion picture that single-handedly changed the face of horror cinema forever.
Learn More About Herschell Gordon Lewis
Herschell Gordon Lewis Articles
Books by Herschell Gordon Lewis
Presentations by Herschell Gordon Lewis
AWAI Programs by Herschell Gordon Lewis
Become a Master Catalog Copywriter!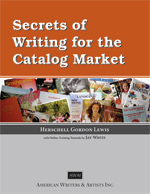 The number of catalogs in the U.S. today now exceeds 10,000. And every word in every catalog – whether it centers on fashion, sports, industrial supplies, electronics, or countless other product specialties – comes from the keyboard of somebody like you.
As you know just by looking at the various catalogs that come your way in the mail or online, some of that catalog copy stimulates your buying impulse, and some doesn't. That can be true even within the pages of a single catalog.
That's why effective catalog copywriters are in such high demand. It's a copywriting niche that requires special skills. But because these are skills you can learn, you don't have to be a "born" catalog copywriter. Plus, it doesn't take a lot of time … and the money's good. Better than good, actually … it pays on average $100 an hour.
If you learn and follow the principles and techniques in AWAI's program, Secrets of Writing for the Catalog Market, you'll be qualified to write copy for any catalog – consumer or business. Yes, you're reading that right … ANY catalog!
As you've come to expect from any AWAI program, you'll be learning from the best of the best – expert catalog copywriter Herschell Gordon Lewis, author of more than 30 books including Catalog Copy That Sizzles. You'll learn …
What works and what's changed in the catalog industry in the past 10 years
How to beef up information without altering facts – the secret to writing good, lean, effective catalog copy
How to master surprisingly simple techniques that make dull information seem irresistible
How to appeal to all the senses to make your copy jump off the page
The secret of the benefit/benefit/benefit principle
How to jumpstart your career with Target Marketing's list of catalog marketers
And much more!
Suppose you had, at your fingertips, a resource full of all the most powerful catalog copy secrets – secret words, secret phrases, secret paragraph structures, secrets to overcoming buyer resistance … secrets, in other words, to turning browsers into buyers. That's what marketers in the catalog business want. And that's what you can deliver, once you know and understand the kind of writing secrets revealed in AWAI's Secrets of Writing for the Catalog Market.
Why not break into this huge and growing market for copywriters, right now? Order this brand-new program today!
Secrets of Writing for the Catalog Market: $399
For More Information, click here …
Creative Rules for the 21st Century —
the Richest Resource of Copywriting Secrets
for Today's Market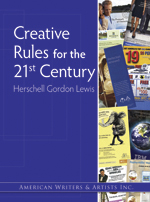 People react to copy and marketing techniques differently from one generation to the next … even from one year to the next. So in order to drive response through the roof, you need to understand everything it takes to write effective copy today.
Introducing Creative Rules for the 21st Century – your definitive guide to the latest, most up-to-date techniques, formulas and rules for writing powerful, persuasive copy – including new copywriting "tricks" never before in print!
In this brand-new, 239-page program, industry legend Herschell Gordon Lewis shows you …
What's working on envelopes today … and what not to say.
Why you shouldn't use "Dear Friend" anymore – and 14 suggestions of what to use instead.
Three little words that immediately melt the reader's objection to a statement he might otherwise reject.
What never to put on a lift note – a common mistake that destroys its impact.
Six appeals to use when writing to seniors … 12 "no-no" words to avoid when writing a fundraising appeal … and 12 "power words" that get donors to respond.
Why the staple of sales letters for the last 50 years – the Johnson Box – is dead … and what to use instead.
Rules for Internet copy … what not to use in email subject lines … and a simple device to boost response in email marketing copy.
Something you should never do in direct-response print ads or direct mail … but which can help your email message bypass the spam filters.
Why "20-year guarantee" outpulled "lifetime guarantee" in a test … why you should never use asterisks or footnotes in sales copy … and what works even better than facts when you have to back up a claim.
And so much more!
In Creative Rules for the 21st Century, Herschell shows you how to be in command of every word … every nuance … and every reaction by your reader. And he gives you dozens and dozens of examples to boost the power of your copy.
This is the most timely, up-to-date copywriting resource you'll ever see … Order today!
Creative Rules for the 21st Century: $299 $199
For More Information, click here …