Jay White:
The Secrets to Becoming a High-Paid Email Copywriter
"Since I became a freelance copywriter, my life has changed dramatically. I have more free time for family and friends, enjoy what I do immensely, and best of all – make more money than I ever dreamed of! If you're looking for the fastest, easiest way to becoming a freelance copywriter and transforming your own life, then AWAI is your go-to source. They have a program to fit whatever writing style fits you best, and their support is top-notch. Make the move today – get started on your path to wealth, freedom, and the ultimate lifestyle by becoming a freelance copywriter, courtesy of AWAI!"
—Jay White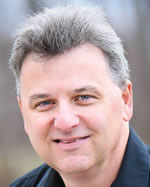 When Jay White answered a local newspaper ad looking for a Radio Commercial Writer back in the late 90's, he never dreamed of the amazing journey that was about to unfold …
It was that job that launched an entirely new career for Jay. After several years of crafting award winning radio commercials, he moved on to catalog writing, where he was able to hone his short copy skills writing for such industry leaders as Bass Pro Shops and SkyMall. Even today, much of Jay's catalog copy still remains as the control.
In 2006, Jay launched his own freelance copywriting company specializing in autoresponder emails for the internet marketing niche. His unique writing style and talent for building a "bridge of trust" with prospects quickly established him as one of the most in-demand specialty copywriters in the business, working side-by-side with many of internet marketing's biggest names, including Rich Schefren, Jay Abraham, Jeff Walker, Stephen Pierce, and Alex Mandossian, who dubbed him, "The best autoresponder copywriter I've ever seen!"
In 2009, Jay joined with AWAI to release Autoresponder Apprentice and Email Copy Made Easy, two step-by-step programs for teaching copywriters and business owners how to craft the most highly effective emails possible. It quickly became one of AWAI's most popular products.
Today, Jay continues to teach and coach others in the fine art of email and autoresponder copywriting. He lives in the beautiful Ozark Mountains of Southwest Missouri, with his wife and two teenage children. When Jay's not focused on finding new and better ways to help other copywriters launch their email copywriting career, you'll usually find him playing golf, being active in his church, jamming along on his guitar to his favorite 70's and 80's rock, or watching his beloved Chicago Bears.
Jay White Articles
AWAI Programs by Jay White
Success Is Easy Once You Know
Jay's "Paint by Numbers" Approach
Mastering the skill of writing email copy – and landing projects that pay $100 to $250 an email or more—is easy if you know Jay's formula.
The good news is that's just what you'll get in Jay's highly popular program, Email Copy Made Easy: How to Write Emails That Get Opened, Get Read and Get Click-Throughs.
In this ground-breaking training, Jay shows you how each piece of his formula works, step by step. Think of it as a "paint-by-numbers" approach to writing top-notch email copy.
The program is broken down into 12 easy-to-understand modules. In each module you get to actually listen to Jay talk you through each and every step of the formula he uses to deliver email results that his clients didn't dare hope for. Plus, he'll show you his proven-to-work methods for getting email copywriting clients in the fastest, easiest way possible.
The program is available through immediate download, so you can get started right away. You don't have to wait another moment to discover:
How to craft emails that'll have clients chomping at the bit to hire you … and keep you busy for months to come.
How to get your head right before you write a single email. (This is Jay's personal "secret weapon." It's what lets him write an email in as little as 15 minutes – with rarely any editing needed afterward!)
The 3 most important questions you need to ask yourself before writing the first word of email copy.
Why you already have everything you need to write top-notch email copy … and how to tap into a "mother lode" of endless winning ideas!
A can't-miss "stock" email opener that you can legally STEAL … and that's guaranteed to get your reader's attention 90% of the time.
How to build trust with your prospects … and evoke powerful emotions that compel them to click on the links YOU want them to. (Remember, the more clicks your emails get, the happier your clients will be … and the more they'll be willing to pay you.)
The BIGGEST mistake most Web marketers make and how to fix it. Knowing just this one thing will make you seem like a true pro and marketing genius to your clients … especially when they see the instant improvement in results.
And much, MUCH MORE!
Jay has left no stone unturned. You're getting 12 hard-hitting audio lessons—each lasting about an hour and each filled to the brim with specific techniques and exercises that'll have you ready to hit the big leagues as soon as you're done.
Plus, you'll also get:
13 "over-the-shoulder" training videos
Desktop cheat sheet
A list of Jay's own personal resources
Bonus webinars on getting clients, writing for B2B, and more
Plug-and-play email copy templates
A step-by-step 90-day success plan
Even a private groupsite where you can ask Jay any question you like. He'll even personally critique your emails for you!
All that and TONS more …
No question, you're getting a complete, soup-to-nuts guide to making it big as an email copywriter. No matter what client you want to go after, you'll have the confidence – and the skill – to know that you can write email copy that produces results.
Email Copy Made Easy: How to Write More Persuasive Emails that Get Opened, Get Read, and Get Click-Throughs: $497.00