Jay White:
The Secrets to Becoming a High-Paid Email Copywriter
"Since I became a freelance copywriter, my life has changed dramatically. I have more free time for family and friends, enjoy what I do immensely, and best of all – make more money than I ever dreamed of! If you're looking for the fastest, easiest way to becoming a freelance copywriter and transforming your own life, then AWAI is your go-to source. They have a program to fit whatever writing style fits you best, and their support is top-notch. Make the move today – get started on your path to wealth, freedom, and the ultimate lifestyle by becoming a freelance copywriter, courtesy of AWAI!"
—Jay White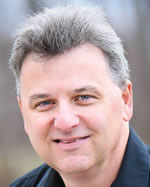 When Jay White answered a local newspaper ad looking for a Radio Commercial Writer back in the late 90's, he never dreamed of the amazing journey that was about to unfold …
It was that job that launched an entirely new career for Jay. After several years of crafting award winning radio commercials, he moved on to catalog writing, where he was able to hone his short copy skills writing for such industry leaders as Bass Pro Shops and SkyMall. Even today, much of Jay's catalog copy still remains as the control.
In 2006, Jay launched his own freelance copywriting company specializing in autoresponder emails for the internet marketing niche. His unique writing style and talent for building a "bridge of trust" with prospects quickly established him as one of the most in-demand specialty copywriters in the business, working side-by-side with many of internet marketing's biggest names, including Rich Schefren, Jay Abraham, Jeff Walker, Stephen Pierce, and Alex Mandossian, who dubbed him, "The best autoresponder copywriter I've ever seen!"
In 2009, Jay joined with AWAI to release Autoresponder Apprentice and Email Copy Made Easy, two step-by-step programs for teaching copywriters and business owners how to craft the most highly effective emails possible. It quickly became one of AWAI's most popular products.
Today, Jay continues to teach and coach others in the fine art of email and autoresponder copywriting. He lives in the beautiful Ozark Mountains of Southwest Missouri, with his wife and two teenage children. When Jay's not focused on finding new and better ways to help other copywriters launch their email copywriting career, you'll usually find him playing golf, being active in his church, jamming along on his guitar to his favorite 70's and 80's rock, or watching his beloved Chicago Bears.
Jay White Articles