Jennifer Stevens:
World Adventurer, Top Travel Writer
and Successful Copywriter
"For me, the writer's life is all about having control over the way I spend my time. I wasn't ever really good for anything but playing with words — and I genuinely enjoy writing — but I chaffed at the 60-70-hour weeks I was putting in managing a publication for meager pay and few perks. I found myself writing checks to copywriters for copy I'd largely rewritten and I thought, 'I am on the wrong side of this transaction.'"

"So I quit and went freelance so I could charge those high fees myself … and work from home, travel when I feel like it, be around to see my kids grow up. It's worked out swimmingly. It's not that I don't work hard. And some weeks I'm in the office long hours. But my office is 15 feet from my bedroom, I can throw laundry in the machine in the middle of the day, and I can make time to volunteer with the PTA. My life is my own and I get paid six figures to live it."
— Jennifer Stevens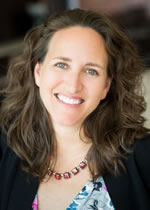 JENNIFER STEVENS is a copywriter, author, and editor and the true embodiment of everything the writer's life is about. Jennifer has gallivanted through 28 countries in Latin America, Europe, Africa, and Asia writing about the best locales for overseas travel, retirement, and investment. She's the author of AWAI's Ultimate Travel Writer's Program and the Executive Editor and chief copywriter at International Living magazine. In past incarnations, she lived in Paris and wrote market research reports for the Foreign Commercial Service. And she spent two years as a Peace Corps volunteer on a spit of sand between Madagascar and Mozambique. Today, she gets paid to write and travel from her home base in Colorado, where she lives with her husband and three boys.
Learn more about Jennifer Stevens.
Jennifer Stevens Articles
AWAI Programs by Jennifer Stevens
The Ultimate Travel Writer's Program
Do you have what it takes to get paid to travel? Chances are, you do. And that means you could stay in top-tier hotels all over the world … fly to destinations pulled straight from the covers of glossy travel magazines … tour museums, breweries, and private artisanal workshops, no charge … taste-test the world's finest foods and meet well-known chefs around the world from Paris to Malaysia … and more …
Imagine if you could slide out of bed knowing your "work" for the day would be to scuba dive along the Great Barrier Reef … shop for the perfect cup of coffee in Buenos Aires … or kayak from island to island in the sleepy San Juans.
If you ever dreamed about the romantic life of a travel writer, here's a very unusual opportunity to actually live it!
With The Ultimate Travel Writer's Program, you'll learn how … no experience necessary. Discover:
Where to find the best story ideas and how to find publications that will pay you for them.
How to make the most out of every trip you take by coming away with three or more articles.
What to do and what not to do when you approach an editor so you're sure to land repeat assignments.
Little-known techniques travel writers use to land concert tickets … meals … vacations … and more … without paying a dime.
Find out how easy it is to earn extra income while you travel the world … meet new people … and enjoy the freedom and independence of a writer's life.
Also included when you take a look today …
101 Places to Get Published. It's hard to find those small, niche publications willing to work with first-time writers. We've done that hard work for you. Here you'll find editors' names and e-mails, plus links to the publication's writer's guidelines.
Money-Making Travel Photography. Photo-article packages are more attractive to travel editors – and mean higher earnings for you. While it's true that photos help you sell your articles, it's also true that you don't need lots of experience or expensive equipment to take the kinds of shots that can illustrate your stories. You'll discover some easy techniques you can put into practice immediately to take better shots every time … We sell this guide separately on our website for $25, but I'll send it to you free.
101 Story Starters for Instant Success. This guide is designed to inspire your story ideas. You'll never have to stare at your blank computer screen again wondering how to begin your story. Instead, read through a few pages of 101 Story Starters and the possibilities will be endless. Pick a "story starter" template that fits your article, and you'll be on your way to a publishable piece in no time.
Order The Ultimate Travel Writer's Program: $279 or start today for just $49 with 7 additional payments of $39 each.