Jessica Kizorek:
Using Online Video Marketing
to Make a Bigger Impact
"AWAI is committed to creating resources that set people up to succeed in this new communication era. No matter what the background – be it video production, marketing, or copyrighting – AWAI members get amazing insights and real life examples that will make them look like an expert in their chosen field."
— Jessica Kizorek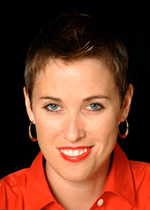 JESSICA KIZOREK is a serial entrepreneur, author, and adjunct professor at the Miami Ad School. She provides consulting and video production services to non-profits, corporations and small businesses, trains businesses to build relationships with their customers through online video and social media, speaks publicly on the topics of women in business, success strategies, and the rise of online video for marketing and fundraising, and is the author of eight books, including the AWAI program "Marketing with Video for Profit." Her corporate video clients include: Bacardi, Moet Hennesy and MAC Make-up.
Kizorek is also the founder of TwoParrot.com, a video production company where she works with her family giving away video production grants to non-profit organizations around the world. To date Two Parrot has produced over 33 mini documentaries for prestigious non-profits like the AARP Foundation, Special Olympics, and Lions Club. She has travelled to 62 countries, many of which filming on the front lines of third world humanitarian efforts in places like Pakistan's largest refugee camp.
Most recently, Kizorek founded BadassBusinesswomen.org, an organization meant to challenge and support women in their ambitions to succeed in the workplace. Founded in February of 2010, Badass Business Women is unleashing the inner Badass of professional women around the world. Her blog is read in over 30 countries. Years of elite leadership training at Landmark Education prepared her for the exciting challenge of leading a movement destined to alter the lives of millions of women worldwide.
Jessica has lectured at Princeton, UC-Berkley, University of Michigan, University of Miami and Miami Ad School. She's been featured on Fox, NBC, CNN, Weekend Today New York and the Better Show.
Connect With Jessica
AWAI Programs with Jessica Kizorek
How to Profit and Have Fun Writing for the
Online Video Marketing Niche
A successful video marketing campaign isn't much different from a traditional direct-response marketing campaign …
… Its purpose is to get the viewer to take a specific action.
That's why the video script is so important. It's the lynchpin that determines whether or not the video will convert viewers to sales. Companies know this. And they know the value a good script writer brings to the table. Starting pay for most video scripts starts at $100 per minute of video and can go as high as $500 per minute.
AWAI has partnered up with one of the most experienced, knowledgeable, and respected online video marketing experts in the industry – to bring you the quality training you'll need to succeed in this exciting, cutting-edge niche.
Her name is Jessica Kizorek, and she'll lead you by the hand to video marketing profits in AWAI's new program titled, Marketing With Video Online for Profit.
You'll learn everything you need to know to get started in this exciting new field, including how to:
Plan a video from start to finish
Write a video script
Storyboard a video script
Shoot a video and make it look professional
Edit a video and make sure it's persuasive and compelling
Distribute a video online for maximum marketing exposure
Contract your services
Make money online with your YouTube videos and others
In short, you're going to learn everything you need to know to use video marketing to build your existing business or to make video marketing your new business. And to make this a truly interactive experience, Jessica has included dozens of hands-on exercises, hundreds of real-life examples and 19 video tutorials.
AWAI's Marketing With Video Online for Profit: $199
For More Information, click here …