Lori Haller:
An Unparalled Expert
in Direct Response Design
"When I saw the quality of the information in AWAI's Graphic Design Success program, I immediately began recommending it to everyone I knew who wanted to go freelance.

As a highly sought-after graphic designer, I can confidently say this program has no equal.

And that's why I'm writing to you today, because it's with AWAI's program that you'll be able to escape the job you're in now and enter into an new, lucrative, exciting career you can do 'part time.'"
— Lori Haller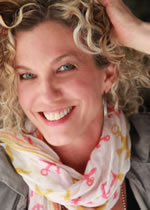 LORI HALLER has been a successful graphic designer for over 20 years creating winning direct-mail packages for a wide variety of clients in many different industries. She's done designs for health and fitness clients, investment clients, and consumer/business associations and more. Her clients include Hyatt Hotels, Kay Jewelers, Forbes, The Motley Fool, Oprah Winfrey's Harpo Productions and National Geographic.
Lori has worked with clients around the world. She currently has clients in Bonn, Germany, Amsterdam, The Netherlands, London and Columbia.
Her experience stretches from logo design, corporate identity packages, product development, new product launches, packaging, magazine and newsletter design, annual reports, brochures and book design.
To create so many WINNING direct-mail campaigns that "beat the control," Lori's success and the number of control-beating packages she has designed lies with her willingness to ask every client critical questions and her commitment to keeping her creativity at its peak.
Lori is an in-demand speaker and trainer. She brings AWAI members unbeatable systems for working with clients and pricing projects that you won't find anywhere else.
Lori Haller Articles
AWAI Programs by Lori Haller
Here's Your Opportunity To Make $100,000 A Year Or More As A Desktop Graphic Designer …
Best of All, You Don't Even Have To Be Able To Draw A Straight Line!
Learn about the lucrative world of designing promotional letters for the $2.3 trillion direct-response industry. These are the letters you see in your mailbox and get via the Internet every day. Designing these letters is fun and easy once you know the proven secrets of direct-mail design.
AWAI's Graphic Design Success is the only comprehensive program about direct-marketing design that shows you:
The five common elements of a direct-mail package and how to design them for maximum effectiveness. (The more effective your design, the more you'll get paid!) These include the envelope … the "lift" note … the letter … flyer … and order form.
How to make a page's layout "come alive" and grab your reader's attention. (Probably one of the most important skills you'll have as a graphic designer.) Plus, you'll learn four ways to increase the odds of getting your layout read.
"Wrong" vs. "right" examples – and plenty of 'em – that illustrate what works best and what to avoid. Once you see good and bad design side by side, the right way becomes obvious and second nature to you.
The right way to design response-boosting elements like bullets, pull quotes, bursts, and Johnson boxes.
Eight key elements of winning graphics – and the biggest design mistakes that can sabotage even the best sales copy.
How to arrange copy and graphics on a page … add photographs, charts, and tables … and avoid the most frequently made color mistakes.
The secret to stirring your reader's emotions with typefaces, color, and graphics to get him in a "buying" mood.
And much more …
And you don't need any artistic talent or ability. In fact, you don't even have to be able to draw a straight line. Because this little-known segment of the graphic arts market happens to be the easiest. All you have to do is point and click with your mouse.
By the time you finish this program, you'll have real-world techniques you can use to design almost any project that comes your way. Best of all, you'll know more about good direct-marketing design than 99% of the other freelance graphic designers out there.
AWAI's Graphic Design Success: $290 …
Get Your Design Career Started Fast …
Right Out of the Gate
Now that you've decided to pursue a freelance design business … take a minute and accept this offer to fast track your success right from the start with The Ultimate Guide to Building a Highly Profitable Graphic Design Business.
And in the meantime you'll be giving yourself some very important gifts …
How to avoid the productivity sin that even old pros commit. If you allow yourself to fall into this habit, it'll rob you of your chance to come up with winning designs.
A simple way to build a solid winning portfolio within a few days. Instead of waiting weeks or months for samples to trickle in from clients, this trick will multiply them fast.
The review tactic that virtually eliminates errors and misunderstandings between you and your clients. Even if several people in a company have to review your design, this approach keeps everything organized and helps you handle changes quickly and efficiently.
Shave weeks, months, even years off of the time it would normally take to start a design business.
In a nutshell, this guide will help you avoid the pitfalls common to the design business and achieve your goals faster than you ever thought possible. I only wish I had this kind of information at the beginning of my career. I could have saved myself years of trial and error.
Order The Ultimate Guide to Building a Highly Profitable Graphic Design Business for just $59.