Lorrie Morgan Ferrero:
Lifetime Writer and Author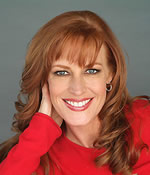 Lorrie Morgan Ferrero has been a writer all her life. "Yes, writing has always been pretty effortless for me. So I chose to fight it. Why should life be easy if it doesn't have to be, right? I decided I wanted to be an actress. To satisfy my parents, I got a degree in journalism. I wrote regularly for the school paper, radio station and yearbook … while I studied acting every chance I got. As soon as I graduated from one of the best Journalism schools in the country (at University of North Carolina at Chapel Hill) I high-tailed it to Los Angeles. I drove across the country with my cat, my futon and $300 ready to be discovered.
And while acting didn't ultimately work out for me, I wouldn't trade in the education I got from acting about expressing myself and communication for anything. Dissecting a story and human psychology have served me well as a copywriter. In fact, oddly enough, it seems everything I've learned in school, and in the real world, have brought me here today with my writing expertise."
Lorrie's clients include Loral Langemeier, Shawn Phillips, John Childers, CIGNA Healthcare, Mark Victor Hansen, Alexandria Brown, Joel Christopher and many more …
Lorrie writes a highly acclaimed newsletter, "Copywriting TNT – Tips N Tactics" and have written a book for copywriters and entrepreneurs alike called, "Red Hot Copy to Woo Your Target Market".