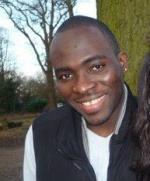 Donald Chu Obii

London, United Kingdom
Copywriter, Social Media Expert, SEO Expert, Publicist
B-to-B, Health, Web/Internet
Are you seeking compelling marketing content that grabs your audience - prospects, clients or patients by the heart strings and pulls them into your message.
Content that's so captivating and speaks direct to your audience (not over them)? If this is what you seek, then you and I need to have a quick chat.
I'm Donald Chu Obii... I craft compelling web content – with holistic marketing strategies for the 'natural/alternative health' industry.
I've completed some in-depth training to help me hone my skills as a copywriter and marketing consultant. As part of my education, I completed the following AWAI courses with great success:
• Accelerated copywriting Program
• Masters' Program
• Writing for the Health Market
• The legalities for copywriting
Today, I'm glad to say all my hard work is proving valuable to the bottomline of my clients and myself.
And I'll love to do the same for you…
I can help you with:
• Landing pages
• Blog content
• Website content
• Sales letters
• Video Sales Letters
• Social media
• PPC
• Funnel creation & more
Let's have a chat today!