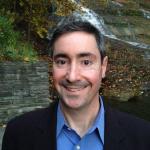 Ted Goldwyn

Painted Post, NY
Copywriter, Researcher
B-to-B, Financial, Fundraising, Web/Internet
I offer my clients concise, focused writing and communications expertise to help them achieve their strategic objectives. As a collaborative partner with a keen grasp of organizational management, customer service and brand identity, I also understand how effective communication can contribute to an organization's financial success.
My professional experience has included an eighteen year management career in financial services, along with stints in the retail and travel industries. I bring a professional focus, collaborative approach and strategic mindset to everything I do.
I specialize in many types of corporate writing and communications, including:
• Marketing and Web Copy
• Direct Mail
• Internal Communications
• Training Materials
• Speech Writing and Presentations
• White Papers
• Technical Writing
• Government Affairs and Political Advocacy
• Journal Articles
• Annual Reports
Personally, I am a proud father of three, and enjoy running, music and reading in my spare time.