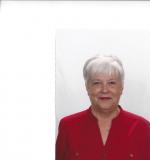 Judith Halfacre

Estes Park, CO
Researcher
Web/Internet
www.MyInternetResearchAssistant.com
Thankfully I have never felt I had to dedicate 30 years of my life working for one employer. I have a very unique work experience history.
I have a BS in Education and MS in Counseling. I taught for six years and was an employment counsellor for two years..
I was a Stockbroker for 3 years and an Account Executive for various national limited partnerships including RIC - Realty Income Corporation, Concord Assets Group. One year at Monex International selling precious metals, puts and calls and tangible assets.
Eight years as International Sales Director at V-Systems Inc, selling automated fax software for Unix systems.
Wholesaled for several mortgage companies as well as wrote retail mortgages.
In 2007, I began my most challenging and rewarding occupation to date. It was time to complete a commitment. I was a 24/7 caregiver for my mother for 3 years. I learned so much during those three years. It was exhausting and at the same time so fulfilling. www.elderhomecaregiver.com