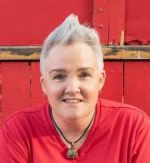 Pauline Longdon

Brisbane, Australia
Copywriter
B-to-B, Financial, Health, Self-Help
Currently being trained by Parris Lampropoulos as one of his "Copy Cubs"
Worked on Mal Emery's (Australia's "Millionaire Maker") copywriting team for 3 years specializing in online and offline marketing packs (Shock and Awe packs... Soup to Nuts) for over 43 different industries.
Freelance copywriter since mid 2012.
Trained as a Registered Nurse with a Bachelor in Nursing. 20 years nursing experience.
Certified trainer.
14 years in the Australian Army (in the Nursing Corp) Reached the rank of Major with two Overseas Deployments.