Meet AWAI-Trained Writer: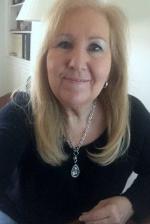 Barbara Bryant
| | |
| --- | --- |
| Location: | Gilbert, AZ |
| Professions: | Copywriter, Researcher |
| Specialties: | Christian, Self-Help, Web/Internet |
| Website: | AmericanWriter.US |
Professional Background:
I studied Business Management at North Texas Central College and University of Phoenix and hold a BA in psychology from Ashford University. I am a member of Alpha Sigma Lambda and Golden Key International Honor Societies and The Daughters of the American Revolution. I received Google Adwords certification and worked in the advertising department for two years. I am also a Certified Law of Attraction Practitioner and the author of "The Wild Kitten." I enjoy writing, reading, gardening, and making jewelry. I have a special interest in training young minds to have a positive perspective on life and in helping parents to be positive in their parenting. I have written many parenting articles and I have a website dedicated to parents who have an interest in positive parenting. www.kidsrpositive.com I have strong beliefs that anything is possible when the mind is in proper alignment and life is more manageable and enjoyable with a positive attitude. I'm an American with a strong allegiance to my country and the welfare of its citizens. My website www.patrioticamerican.us is free to all worldwide.