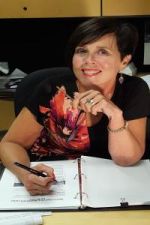 Holly Helscher

Cincinnati, OH
Copywriter, Social Media Expert
B-to-B, Catalog, Web/Internet
I have over 40 years of running functional areas for profit and non-profit businesses. Managing college campuses as well as skilled and assisted living centers has enabled me to succeed in everything from improving the bottom line to maintaining compliance. Writing, marketing, training, presenting based on analytical trends were key job elements for me on a daily basis. Outcome was always the objective.
Years of training and practical application in writing help me know how to listen to what you, and your customer needs so you can become a more successful business because outcome is what your objective is as well.
My success has always come from being able to communicate. One time the CEO of my parent company saw me present a new idea for which I wanted $25,000. He jumped up at the conclusion and said, "I want you presenting everywhere. And, yes, you get the money."
Do you need to get across a new idea or put a fresh bounce in an old one? I'm your copywriter.