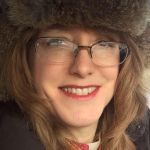 Laurel Kashinn

Milwaukee, WI
Copywriter, Resume Writer
B-to-B, Christian, Fundraising, Health, Self-Help
"I write compelling stories of success!"
Laurel Kashinn is a certified ghostwriter with 18+ years experience as a direct response copywriter, resume writer, and design director. She's written and designed hundreds of résumés, books, magazines, newsletters, direct marketing copy, and more. She earned her ghostwriter certification through Claudia Suzanne's rigorous nearly-masters-degree program at CSULB. She studied Ted Nicholas' Magic Words direct marketing writing program. Her BA is in Journalism from UW-Madison.
A sought-after speaker, Laurel leads success workshops in publishing, entrepreneurship, marketing, and career strategies. She helps authors write fiction and nonfiction books and is knowledgeable about business, marketing, self-help, alternative health, spirituality, YA fantasy, and science fiction. An Orthodox Christian and student of A Course in Miracles, she loves dogs and other critters, and is knowledgeable about alternative/functional/integrative health.