Meet AWAI-Trained Writer: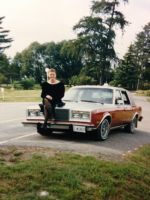 Joan Bell
| | |
| --- | --- |
| Location: | Chalk River, ON |
| Professions: | Copywriter |
| Specialties: | B-to-B, Financial, Fundraising, Health, Web/Internet |
| Website: | estherhazey.com |
Professional Background:
44 yrs nursing, OPP twenty in communications and instructing basic/advanced CPR,First Aid, Babysitting course, Wilderness Survival Course, Pharmacology, Psychology course,copywriting, wrote two e books, The Blue Org, Jeckyl & Hyde a Person with more than one face to be published on e book shortly. webwriting, B2b,barefoot writer, accelerated copywriting,Smart Start Copywriting, COS,all through Awai. Willing and Able to writer anything for anyone if I don't know I will not hesitate to ask someone. Researching. Being accurate and honest through writing. Worked in banks for 15 yrs., been underground one mile the deepest mine in Canada in Northern Ont., in the 70,80's, flew patients out by plane, VON nursing for three years. Worked in a mine for one year, doing secretarial, safety, hiring, firing, looked after company benefit programs. I have done every thing there is to do in a bank while working there. Mortgages, loans, secretarial, ATM machines, balancing cash and checks every day, calculating interest, investments.I looked after a lot of millionaires accounts personally and did their investing and deposit into their accounts each day. Owned a firewood company for 35 yrs, cutting, splitting, firewood and delivering it to Toronto for one year all over the province. I renovated and repaired 23 houses, buying and selling them, landscaping, etc. all done by myself. I was raised in a construction family, been doing it since I was 7 yrs old. My last career copywriting, I hope to make a success of this one like I did the others. I am a workaholic so I have been told. I believe in being honest and will not hesitate to speak my mind in a positive tone.My aim is to buy a house in my name only. I have ran a bird and dog sanctuary since 2001. I have always helped people and family out. I have saved a lot of animal lives. I need a safe house to live in.