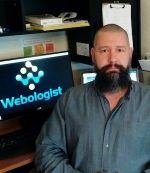 Stephen Ledford

Waynesville, NC
Copywriter, Researcher, Social Media Expert, SEO Expert
Health, Self-Help, Web/Internet
Your business deserves better than content-mill writing and stock-template strategies. I'm sure that you work hard for your business. Isn't it time that your web presence works just as hard?
My passion is simple: help people harness the power of the web to grow their business with strong copy and conversion strategies.
We'll work together to create a unified vision and voice for your business.
I use industry best-practices to create:
• more conversions on your website with compelling SEO copywriting and website optimization.
• an excited, active fan base with smart social media strategies.
• customers who value your expertise with engaging emails.
Most importantly, I won't throw a finished product your way and disappear into the sunset. I stake my reputation on your results. We'll test, analyze, and adjust to ensure you maximize your results.
Let's build a bright, engaging web presence that casts shadows on your competition.