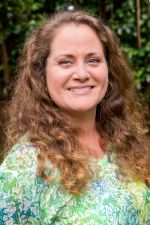 Marta Lane

Aurora, CO
Copywriter, Social Media Expert, Grant Writer, Travel Writer
Health, Web/Internet
www.tastingkauai.com/marta-lane-freelance-writer
Marta Lane is a freelance writer who has contributed to The San Francisco Chronicle, Hawaiian Airlines website, Jazzercize blog, Hana Hou! magazine, AAA Hawaii magazine, and more. For more than four years, her columns "Tastes of Kauai" and "On the Farm" ran every week in MidWeek Kauai and The Garden Island newspaper. She was on the organizing committee for the 2017 Kauai Writers Festival and works for agent Elizabeth Kracht of Kimberly Cameron and Associates. Marta is writing the second draft of her first novel.
She is the owner and founder of Tasting Kauai Food Tours and the author of "Tasting Kauai: Restaurants - An Insider's Guide to Eating Well on the Garden Island," which is also available as an interactive app.
Marta lives in Colorado with her husband, Daniel, a freelance photographer. Their furry and four-legged "kids" include Spike, a rescue dog, and Kini, a silver-striped kitten who showed up at their doorstep howling for food.