Meet AWAI-Trained Writer: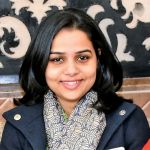 Diksha Chauhan
| | |
| --- | --- |
| Location: | Delhi, India |
| Professions: | Copywriter |
| Specialties: | Health, Self-Help, Web/Internet |
Professional Background:
I have a degree in English Literature and a background in paramedical studies. After I graduated, my love for the written word naturally led me towards writing.
I landed my first independent contract in 2010 and so began my freelancing career. Even though I had clinched my first project, I had yet to commit myself to being a full-time freelancer.
In 2012, I took on the position of Assistant Section Officer in the Ministry of Defense, Government of India. In this role, I was involved in HR policy formulation and had to write high-profile government documentation.
Even though my position still entailed a lot of writing, it was of a very different nature in comparison to web content. The writing here was factual, tactful, measured, and extremely controlled.
While I had a job that was well-respected and paid well, I started missing the creative and dynamic side of web content writing. I realized that writing persuasive, informative, and engaging copy is much more fulfilling than writing any government document.
As a result, I chose to go on an indefinite sabbatical and pursue web-content writing on a full-time basis. I've since worked for a variety of clients from a number of different niches.
I have the ability to follow elaborate instructions as well as working independently and making critical calls. I also understand the fundamentals of SEO and can create converting copy while keeping the search engines happy too.
I should add that I'm very dedicated to my work and also easy to work with. My job with the Government of India has taught me how to collect, collate, and analyze large amounts of data as well as deliver it in a coherent format and timeframe.
With every project I undertake, I bring my passion for writing enticing copy, grounded in the values of punctuality, dependability, and planning. And I take a lot of pride in doing so too.