Meet AWAI-Trained Writer: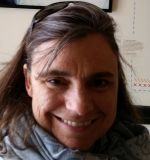 Karen Molander
| | |
| --- | --- |
| Location: | Wenatchee, WA |
| Professions: | Copywriter, Researcher, Travel Writer |
| Specialties: | B-to-B, Self-Help, Web/Internet |
Professional Background:
You can't believe everything you read on the internet, and finding the nuggets of truth can take hours of your precious time. Imagine if, instead of spending hours doing research for your copy, you could open your email and find that it has already been done. That's 5, 10, 20, or even more hours that you could spend writing, or in quality time with your loved ones.
I can help you take back that time by doing the research for you.
As a nurse educator, I have spent much of my career researching reputable information to educate my students or patients. Now, I want to take that background and use it to help you find the information you need to build your sales campaign. My career has revolved around healthcare and education, and I have also done research in areas such as travel, finances and philanthropy. I love to learn new things and am a stickler for the truth.
Contact me today to discover how I can help you recover hours of your time.