Meet AWAI-Trained Writer: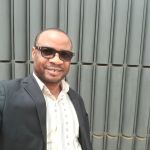 Kojo Ahiakpa
| | |
| --- | --- |
| Location: | Accra |
| Professions: | Copywriter, Researcher, Resume Writer, Grant Writer |
| Specialties: | B-to-B, Christian, Financial, Health, Web/Internet |
Professional Background:
I am an agribusiness management and training consultant with keen knowledge and skills in agribusiness management, research methods, scientific communications, crop genomics, horticulture and agricultural project management.
I also run Research Desk Consulting Ltd, a seamless consultancy offering freelance copywriting, medical writing and scholarly writing. I have consulted for the USAID and Research Triangle Institute (RTI) as a Professional Service Provider in Liberia, Data Manager and Research Associate with the International Institute of Tropical Agriculture (IITA) and as a Data and Policy consultant for Grameen Foundation in Ghana. I led and managed Igeza Fall Armyworm Solutions Africa Project team to develop Igeza App (pest management AI/GIS-driven mobile App) and won the second runner up Fawtech prize in 2018 in Cape town as the Programme manager. I am currently wrapping up my PhD in China and MBA in Entrepreneurship and Leadership in Cyprus.
I write weekly for the agribusiness column in Ghana and render consultancies to the agribusiness sector in developing countries.I serve as reviewer for the Agronomy Journal of the American Society of Agronomy (ASA), Genetic Resources and Crop Evolution (Springer-Nature), Archives of Agronomy and Soil Science, South African Journal of Plant and Soil (Taylor and Francis Group), International Journal of Agronomy (Hindawi Publishing), Nutrition and Food Science (Emerald Publishing) and African Journal of Food, Agriculture, Nutrition and Development (Rural Outreach).I am a passionate freelance copywriter and scholarly editor.
I am a member of the Crop Science Society of America, Agriculture, Nutrition and Health Academy (ANH),Extension & Advisory Services Community of Practice (The Feed the Future Developing Local Extension Capacity (DLEC)), Young Professionals for Agricultural Research & Development.