Meet AWAI-Trained Writer: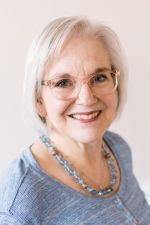 Professional Background:
WHO I AM: I am a professional freelance copywriter with years of writing experience gained before I knew I wanted to write as a career. Like many entrepreneurs, when I needed copy, I wrote it. Then I struggled to keep up with all the other tasks that required my attention.
WHAT I DO: I offer copywriting services that provide compelling, persuasive copy that allows you to change the 'I can't get it all done' dynamic. I write words that work for your needs and give you more time to perform the tasks that best utilize your unique skills to grow your business.
WHO I WORK WITH: I work with entrepreneurs in events, entertainment, hospitality, and the Christian market. I am also involved in natural health, love recumbent trikes, and am always willing to explore intriguing new niches.
WHY IT WORKS: I have added specific copywriting training to my past writing experience by working with American Writers & Artists Institute (AWAI), a nationally recognized leader in training copywriters. I provide effective and affordable copywriting to meet your needs.
WHAT MAKES ME DIFFERENT: With over 35 years of experience in the events, entertainment, and hospitality industries, I know the language your clients speak. I have seen these industries from both sides and understand the needs of your prospects as well as the challenges you face as you serve them.