Meet AWAI-Trained Writer: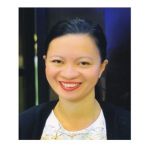 Ana Mae Dusaran
| | |
| --- | --- |
| Location: | Iloilo |
| Professions: | Copywriter, Researcher, Social Media Expert, Resume Writer, Grant Writer, Travel Writer |
| Specialties: | Christian, Financial, Fundraising, Health |
Professional Background:
Ana Mae Badayos Dusaran is a Secondary School Teacher II of Barotac Viejo National High School and presently residing at San Geronimo, Barotac Viejo, Iloilo. In BVNHS, she was an adviser to different club organizations such as Society of English Students (SES), Batang Ready (sponsored by ADRA Philippines, German Relief aid, Humanity & Inclusion & others), and Gender and Development Advocates (and at present). Formerly, she was a Regional Secretary of PNP Values and Spiritual Transformation, Preschool Teacher at Harvard School of Laguna, Elementary Teacher at Molo II Elementary School and Substitute Teacher in two schools, Don Esteban Memorial Elementary School and Molo II Elementary School. She graduated her Bachelor of Secondary Education major in English at Northern Iloilo Polytechnic State College Barotac Viejo Campus, Master's Degree at West Visayas State University with the degree of Master of Arts in Education major in Language Teaching in English and presently, a PhD in Education scholar at Atlantic International University. In addition, she was a former research presenter during the 2019 International Seminar and Research conference held in Cagayan de Oro on September 19-21, 2019 sponsored by State Universities and Colleges Teacher Educators Association, Inc. In addition, she was a Basic Education Research Fund (BERF) Qualifier and Completer in Region VI in 2018. Furthermore, she was a member of the following organizations at present: British Council Teacher Community, National Organization of Professional Teachers Inc., Vitae Realizing The Potential of Researchers, Teaching English British Council BBC, International Association of Teachers of English as a Foreign Language (not yet in full), Teacher Educator Community British English, Fuzia Empowerment, Oxford Teacher's Club, edWeb.net.com, Institute for Engineering Research and Publication (IFERP), The Educator's Link and Professional Writers Alliance of American Writers and Artists Institute. She published some of her poems at Poemhunter.com, and selected PPT presentation and articles, at Figshare.com, Medium and Academia.com. Thus, she is fond of writing poems, writing essays and articles, playing piano, taking photographs, art works, and reading books.