Your Complete Guide to Launching and Running
Your Profitable Freelance Graphic Design Business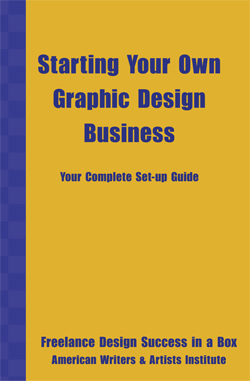 Launching your freelance design business is one of the most important decisions you'll make in your life … we're talking life-changing. Unfortunately, many promising direct response designers toy with the idea of launching a business … they might even lay some of the groundwork … but when it comes to talking that big step, they balk.
They have too many questions looming over them. Too many worries about what might go wrong. Too many concerns over how to market themselves and land clients.
That doesn't have to be you! With our Freelance Design Success in a Box you can launch and run your business with confidence.
Get answers to questions like …
What should the legal status of my new business be?
How will my tax situation change?
What's the best computer/software for me?
And learn how to …
Begin building a solid business in matter of months, not years.
Prepare and plan for a variety of business situations.
Expand your business until you have all the work you want.
Stay organized, motivated, and focused at all times.
Maximize your income, increase your free time, and minimize stress.
Freelance Design Success in a Box contains everything you need to know to start your very own graphic design business. Nothing is left in doubt!
Most importantly, all this advice comes straight from the best authorities in the world: Professional graphic designers who pull in high six-figure incomes every year … not just because they can design well but also because they're extremely smart business people. Now, you can be one, too.
Freelance Design Success in a Box: $99.00
For More Information, click here …