Collect $50+ Per Hour "Back Door" Copywriting Income
Starting Immediately …
and Without Writing a Single Word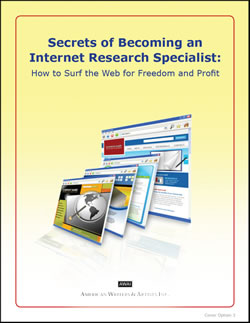 A lot people want the benefits of working in the copywriting industry and living "The Writer's Life"… Things like a flexible schedule, financial freedom and control, the freedom to work from home or anywhere in the world for that matter.
… Yet, for one reason or another, some people aren't big on writing the hard-hitting copy needed to succeed with major direct marketing companies. These folks want a different way to get in on all the benefits being part of this unique industry can provide.
Maybe you feel the same way.
You want something you can start today. You want complete control over your life and time. You want to make a good income, maybe enough to make your neighbors jealous … Well, now there's an opportunity that may be just the right fit for you.
As an Internet Research Specialist, your typical day involves a commute to your home office, some time surfing the Internet, and a few email exchanges with clients. Sounds simple, but this simple career can command $50 or more an hour and top-level copywriters are eager to have you do this kind of work for them… and eager to pay you for it.
The Secrets of Becoming an Internet Research Specialist: How to Surf the Web for Freedom and Profit shows you exactly how you can start earning big money freelancing part time doing research for copywriters. Inside you'll discover:
The single most important thing to understand about web surfing that will let you charge top dollar for your services without flinching
What it takes to get clients — I guarantee this is not what you think
How to master your fear of approaching clients with one simple command
The often-forgotten secret of landing more gigs with less work (this is the hidden force behind building a reputation that pays)
Which industries have the highest demand for your services — and a simple five-step process to know where to find floods of work
How to get others to sell your web-surfing services for you
What to do — after your client says "Yes" — to make your life easier and ensure a steady stream of work (this is called "client control" … but I assure you it's completely above the board and your clients will be happy you do it)
Specific instructions for what to put on your website to sell your services best — this is far less complicated than most make it out to be
The one thing you must get from your client on every project, before you start surfing the Web — and a template you can give them to make their life easy
What your final product will look like when you hand it to the client (and the one thing you NEVER want to forget, if you'd like more work from that client)
25+ targeted websites and other online resources you can use as you surf — knowing how to use these well (and when) can turn you into a superhero with your clients
With the Secrets of Becoming an Internet Research Specialist: How to Surf the Web for Freedom and Profit, you'll know exactly how to land clients and what to do once you have them so that they keep coming back for more. Within a week, you can complete this program and be on your way to a lucrative part-time freelance career.
Secrets of Becoming an Internet Research Specialist: $129.00
For More Information, click here …