myAWAI
Sign In
What is myAWAI? | © 2021 American Writers & Artists Institute
Brought to you by AWAI …




This Week from AWAI …
⚡FLASH SALE! Save $300 on Best-Selling Email Training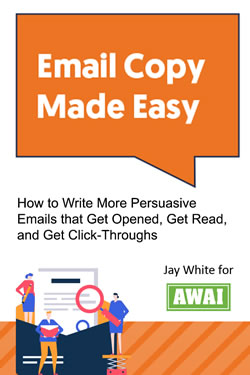 Email is the easiest copy you'll ever get paid to write, the fees are great ($200 to $300 for about 250 words of copy), and the projects never end.
And right now, you can get our best-selling training and be ready to take on paid assignments in just a couple of weeks.
Claim Your $300 Discount NOW
LAST CHANCE: 5-Day Copywriting Crash Course for Just $129 $49!
Earn more as a writer than you ever thought possible by picking up the essential skills you need to charge professional fees! You don't need to be a master to make great money as a writer … you just need the basic skills! Join Katie and Rebecca LIVE online this Monday and in just FIVE days, we'll give you:
The essential writing skills you need to charge higher fees from the start …
An instant confidence boost knowing you can give your writing clients exactly what they need …
The most powerful secrets of persuasion that the highest-paid writers use to make six and even seven-figures …
Our secret, four-part structure of copy that works — Impress your next client with this …
The look of a GENIUS with our favorite editing tricks …
And soooo much more — for just $49!! Hurry — class starts Monday!
Get in Right Now Here.