myAWAI
Sign In
What is myAWAI? | © 2021 American Writers & Artists Institute
Brought to you by AWAI …




This Week from AWAI …
CYBER MONDAY
75% OFF Our
Most Successful Business-Building Program for Writers EVER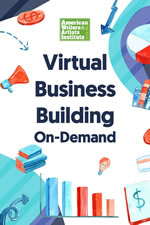 This is a rare opportunity to build a freelance writing business you're proud of … and transform yourself into a professional writer with great clients.
All in just 30 days or less. You'll learn from seven top experts what to do and how to set up each part of your business for major success.
Plus, you'll even have the chance to get feedback on your writing, your LinkedIn profile, and your website.
But you'll need to hurry … all enrollment closes soon, and you won't find this anywhere else on AWAI's site or in the product catalog.
Click the button below to grab your 75% off now.
Learn more.
CYBER MONDAY
90% Off Writing Templates!
Imagine if your next paid writing gig was as easy as filling out a quick form.
Now it can be!
With our 12 web-writing templates, all you need to do is open up the project type … follow our simple instructions … fill out the form … and you're done!
You'll have a fully finished project that your client will love.
Grab the templates now.