myAWAI
Sign In
What is myAWAI? | © 2020 American Writers & Artists Institute
Brought to you by AWAI …




This Week from AWAI …
Cyber Monday Savings START NOW … Save 80% on Groundbreaking Blogging Program!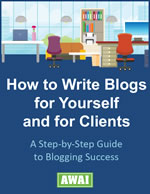 Blogging is hotter now than ever before!
As a blogger, you'll easily get in the habit of writing every day …
You can get up and running in a matter of days …
And you'll be in a position to earn a great passive income writing for yourself or land lucrative retainer deals from clients.
Best of all, you'll save 80% thanks to our special Cyber Monday deal.
Grab the program now.
CYBER MONDAY
Huge Free Gift! 🎁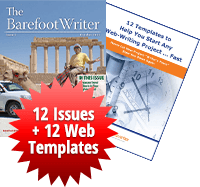 Imagine if your next paid writing gig was as easy as filling out a quick form.
Now it can be!
With our 12 web-writing templates, all you need to do is open up the project type … follow our simple instructions … fill out the form … and you're done!
You'll have a fully finished project that your client will love.
All of them (worth $499) — are yours FREE for Cyber Monday … when you agree to a full-year Barefoot Writer magazine subscription for just $11.
Pick up this amazing free gift here!