Brought to you by AWAI …




This Week from AWAI …
Write in Your Spare Time and Make $3,500 (or More) Every Month From Home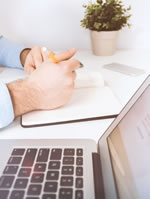 "Spare time writers" have it made!
They write in their spare time, choose their own topics (usually hobbies or passions), and never deal with clients.
Best of all, they make $400, $1,000, $3,500 (or more) every month.
It's a great way to have an extra financial "cushion" to weather any storm.
Click here for all the details.
Last Chance to Join Barefoot Writer Club for 67% Off
Tonight is your last chance to save 67% on a full year of Barefoot Writer Club. When you join, you'll gain immediate access to hundreds of how-to videos, webinars, interviews, a members-only Facebook page, and more …
Along with your "Smart Start" guide, which shows you exactly how to start getting paid to write with … the secret formula for writing letters that can make you six-figures a year … how to set up your business (all you really need is a computer and a connection to the Internet) … how to demand — and get — top dollar for your services … and more!
This is where our most successful members got their start. Get yours right now and save 67%!
Get everything before this deal goes away.