This Week from AWAI …
REVEALED: How to Make Money Writing in Your Spare Time
Kathy W. writes about tomatoes for a few hours each week … and earns enough to pay her children's college living expenses …
Tomaz M. quietly writes about vacuum cleaners and makes an average of $1,000 per day … (That's more than $350,000 per year!)
Holly H. earns more than $100,000 per year writing about ways to make money from home …
Click here for our report explaining everything.
3-Hour LIVE Copywriting Crash Course Begins June 20th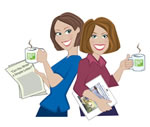 Enrollment is closing June 19th at midnight for our Smart Start LIVE: Copywriting Crash Course training.
Copywriting is the most IN DEMAND job for writers right now.
Give us 3 hours and we'll teach you the basics of writing great copy and how to land the best assignments.
We'll introduce you to the copywriting industry … show you where the opportunities lie … and get you writing.
Sign up before the doors close at midnight.