Brought to you by AWAI …




This Week from AWAI …
Big Things Are Happening in the Writing World!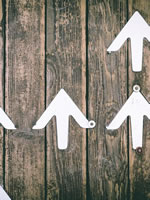 Right now, there's a major shift happening in the writing world …
And it's got 90% of businesses carving out big chunks of their marketing budget to hire writers for a new kind of project.
Once you're in-the-know, you can set yourself up as a pioneer in this field and lock-in a steady writing income for LIFE …
Without writing a single sales letter!
Be one of the first to get all the details in your free copy of the Current State of Copywriting exposé.
Click here for details.
NEW MEMBER DISCOUNT: Save 67% on the "Barefoot" club that shows you how to get paid to write!
The best way to learn a language is to immerse yourself in it. The best way to become a paid writer? Immerse yourself in the world of paid writing. When you join the Barefoot Writer Club, you get immediate access to …
The secret formula for writing letters that can make you six-figures a year …
How to set up your business (all you really need is a computer and a connection to the Internet) …
How to demand — and get — top dollar for your services …
And, in short, how to take the FAST and EASY path to success as a writer.
Save 67% on a full year's membership here.